Beside the Duddon, Cumbria
Supporter

(I'll put this in here because I'm not really sure which is the best place to put it as it's not purely about birds. No doubt the mods will move it if they see fit)
If you have ever wondered whether a sea kayak would be a good platform from which to watch wildlife, the answer is yes it is. However, it's probably not a good idea to just buy all the kit and head off out to sea. Best to get some instruction and training first as the marine environment is a particularly unforgiving one.
Once you get out there though there are some wonderful experiences to be had. These are a random selection of experiences I have enjoyed over the last twenty five years. I often don't manage to get any photos at all as I usually only have my little waterproof compact camera on deck so I try to just focus on the experience instead.
I was slightly miffed though on the occasion when my camera absolutely refused to focus on a Great Shearwater off Scotland's Treshnish Isles. It remains my one and only Great Shearwater experience. If you fancy it though, it is well worth the effort of learning the ropes.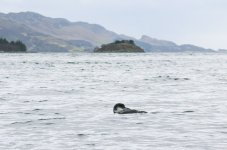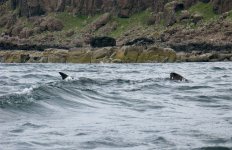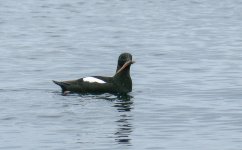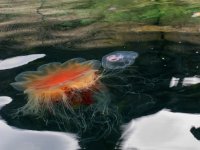 Pics are -
Great Northern Diver - Loch Sween, Scotland in winter - this bird seemed to follow me around for some time.
Basking Shark - Treshnish Point, Isle of Mull, Scotland - one of many Basking Shark encounters I have had off the west coast of Scotland.
Common Guillemots / Murres, Staple Island, Farne Islands, England.
Black Guillemot, Treshnish Isles, Scotland.
Lion's Mane Jellyfish eating a Moon Jellyfish, Treshnish Isles, Scotland.
Last edited: