Former member - no longer active
Supporter

A few days ago I had a wander down to one of my local reserves. I haven't visited it during lockdown as the car park has been closed and it's a little too far to walk from home but the car park has recently reopened.
The reserve has a bird observatory and the observatory blog had regular mentions of a Rose-coloured Starling which had been present for a couple of weeks so I decided to visit and see if it was still about.
It wasn't present in the spot where it had been seen regularly but another birdwatcher soon found it nearby. OK, that's nice. Haven't seen one of those before.
Then I got distracted by some Common Scoters a short distance offshore. Hmmm, they were far more interesting, as was a passing Red-throated Diver. The number of birds in the Eider moulting club was also impressive and held my attention for some time.
But what was really impressive was the display of Viper's-bugloss this year. It's a bit of a speciality at this reserve and very common but frankly it's been a bit disappointing over the last couple of years.
This year though was the finest display I've seen for sevaral years. The trails everywhere were bordered by a haze of tall blue flower spikes. Lovely, even in the rain. It was the standout feature of the day. I'll never make a proper birder.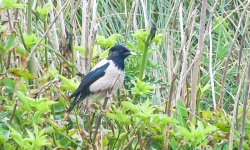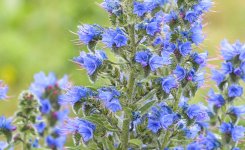 Last edited: