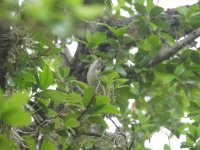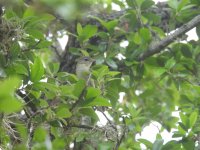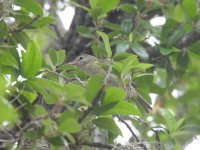 This is a very small bird nesting right by where I'm currently staying. It's tiny, warbler size or so. The area is dry and scrubby, with some mesquite. It looks like the African savannah. Partly because of the zebras.
(No, seriously, I'm on an exotic animal hunting ranch. I fed a giraffe earlier today. I'm mostly here for animal tours, and also to drive a tank.)
There's a river about 30 feet from this tree, and I'd say this bird is definitely in its preferred habitat, as it has a nest. The nest is a delicate cup made of woven strips of plant fiber and fur. I made sure to move further away from the tree once I realized it had a nest. I'm mostly sure it's a vireo, and I think maybe a Bell's? My guide describes Bell's as being particularly small, and found near water. This is a particularly small bird right near water. I thought I'd get some second opinions, though.