Hi everyone,
Here are a few different duck/waterfowl species I photographed in mid-August in the Vogelplas Starrevaart (Netherlands) where I'd like to ask for or confirm my IDs on. The area is known for its high diversity of bird species. I believe it's likely that I was maybe in the "eclipse" period for the ducks, as I saw very few distinctive male plumages, and this is true for most duck species I saw. I'll apologize in advance, many of the photos are of abysmal quality, but that's because the birds were ~150 meters away and so I had to crop the photos a lot.
Thanks in advance for your help!
Best, Max
Number 1: I believe this is a scaup? There were quite a few, but most appeared to be males. What's weird is that it seems to have a couple messy feathers on the back of its head which almost make it look like a tiny tuft (of a tufted duck). Also, the plumage seems off, as the underside is dark grey (and this seemed to be the case with all the males in the area), whereas the images of male scaup and tufted duck I see online have a very white belly.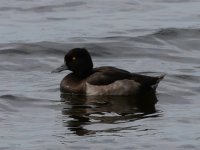 Unfortunately, there weren't many females, and this seems to have been the only one where the face is kinda visible. The quality isn't great, but it does seem as though there is some white at the front of the head, and I believe this is a distinctive feature of a scaup?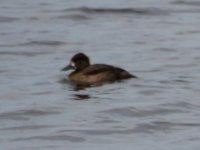 Number 2: I believe this is a ruddy duck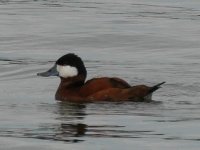 Number 3: these are shovelers right? Eclispe male on the left, female on the right? Or are both females? What I find weird is that I didn't see any ducks with the normal male shoveler plumage, but lots of females.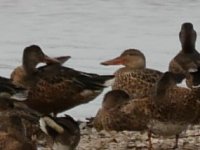 Number 4: there's a distinctive green feather in this duck's wings. Possibly an eclipse male shoveler? I couldn't get a shot of its beak unfortunately.
Number 5: an eclipse male mallard? That beak is definitely yellow, but the head is clearly not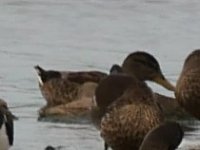 Number 6: maybe a godwit species? Or a snipe?