Help! I received this info from an American friend in Europe:
"I am in the spa town of Luhačovice (Czech Republic) and I noticed a bird struggling. He must have flown into the window you see him at.
"He is quite beautiful and I'm not sure whether he is rare or not but thought you'd be interested and could probably identify him.
I'm going to continue to try and help him."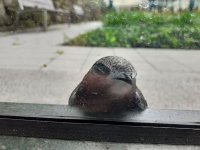 Thank You!