(This is not a discussion about whether cats should be allowed out unsupervised. I'd love to keep the cat in, but it's not up to me.)
Today my father came to tell me that there was a bird in the yard being harassed by our cat, but it wasn't leaving. He thought it might have a nest. I went to look, and it didn't have a nest- it wasn't leaving because it was a screech owl and, I assume, didn't want to fly during the day. Unfortunately, it was still in reach of the cat, while the cat was too high in the tree to be grabbed brought inside.
The only thing I could think of doing was encouraging the owl to move so the cat couldn't reach it. I quickly got a broom, and when I moved the broom head near the owl, it took off and flew across the street. It wound up among some branches too thin for the cat to climb, but a couple of blue jays saw it and set up a ruckus. They've stopped by now. I assume either the owl left, or they gave up.
If this happens again, was that the right thing to do? I know being seen by jays isn't great for owls, and I know they have good reason not to fly during the day. I was thinking that it would be safer being possibly seen by other birds than being within reach of a cat, but didn't want to leave them alone for long enough to come and ask here, in case the cat jumped at it. I would hate for the owl to be attacked, and would also hate for the cat to lose an eye to the owl. I would have preferred to just shut the cat inside, but it wasn't in reach. And I could also see a situation where it's a stray cat, or a neighbor's cat, neither of which would likely tolerate a stranger grabbing them. If I shooed the cat away, it would probably come back as soon as I left, and I can't really stand near a random wild owl until nightfall.
So: if a cat has found an owl's roost, and I can't move the cat, what do I do?
Also, are owls intelligent enough to identify individual people? In other words, is this owl going to remember me as that one person who went after it with a stick? It was more focused on the cat than on me until I got close, but put its ear tufts up in a camouflage posture when I got too close, and I can't imagine it liked having a broom brandished at it. I think it lives in the area, and would hate for it to be extra-stressed if it spots me during the day, or I spot it.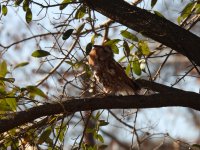 "Urgh, cats."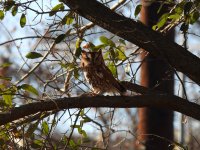 "Urgh, humans."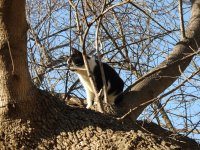 "Ooh, a toy."