Well-known member
Supporter
The other day I came across an ad in the local classifieds. It is an old 7x35 roof prism device that doesn't seem to bear any brand or model name, the form reminds me of classic German roofs from 50 years ago, like the Zeiss Dialyt.
Anyway, what really struck me when reading the specifications on the plate is the incredibly narrow field of view, as small as 3,5º for a 7x35 (by the simple calculation method, 7 x 3,5= 24,5º AFOV!!!, accounting for 61 m at 1000 m (and to think people complain about the 7x42 Habicht
).
I don't think I'v ever seen any binocular with such a narrow AFOV. There are many 7x35 Porro binoculars that easily reach 9º, 11º or even more, although many others make do with less than that. In fact, 3,5º seems more appropiate for something like a 18x56, not a 7x35. In this case, the FOV seems to be such a distinctive feature of this particular device that I wonder whether the information on the label is simply a typo or such a narrow FOV was intentionally created to serve some special purpose (I don't know, maybe by with such tiny AFOV you gain in some area that can be useful for some application that escapes me).
Does anybody have an idea what might be happening here? Typo? Specialised bino?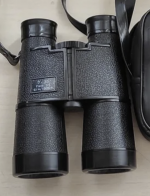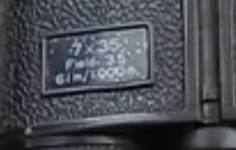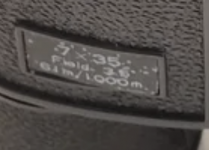 Last edited: