Buck males are very big, very powerful, very territorial (read randy), and very cranky !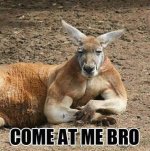 If cornered by dingos or dogs and they are near water, they will stand waist deep to neutralize the (dogs) advantage and seek to drown any canines foolish enough to pursue the matter with their massively powerful arms. As human urbanisation encroaches on their grassy woodland homes, and increased permanent water availability and lush pastures in rangelands and cyclical droughts reduce their natural wariness, contact is becoming more frequent and attacks more common than you would think ! :storm:
I have had several close encounters with big cranky males which I have inadvertently surprised while out walking and birding at dusk ---- scared the livin bejayzus outta me I can tell ya ! :eek!: Having 6ft+ and ~ 200lbs of cranky grunting roo glaring at you a mere bound or two away is not to be recommended ! Their eyesight is either not the best at dusk or they adopt a 'kick the sh*t outta everything first and ask questions later policy. When you hear the baritone grunt that goes with it, you understand where they get the name "Boomer" from ..... it sounds like they have the lung capacity of a big block Chev ! Note to self: perhaps a navy blue sloppy joe is not the best choice of clothing !
I came across this report recently of two ladies attacked while riding pushbikes.
http://www.msn.com/en-au/news/austr...ists-in-south-australia/ar-BBtDLmH?li=AAgfLCP
[EDIT]
More news coming to hand 1/6/16 - just as well she can laugh about it now - make sure you play the video in the smh report link - very funny!
)
:-O
https://au.news.yahoo.com/a/3172625...st-implants-during-attack-in-south-australia/
http://m.smh.com.au/national/womans...ttack-in-south-australia-20160531-gp8gx3.html
Two more other, older reports from Mudgee, NSW:
http://www.mudgeeguardian.com.au/story/2805091/kangaroo-attacks-child-in-mudgee/
http://mobile.abc.net.au/news/2008-07-19/dog-saves-woman-savaged-by-kangaroo/445124
Check out other documented incidents here
http://www.amazingaustralia.com.au/animals/kangaroo_attacks.htm
And in case you still think kangaroos are cute and fluffy, check out "Roger"
http://www.telegraph.co.uk/news/wor...s-back-in-Australia-and-bigger-than-ever.html
https://www.google.com.au/search?q=...hUKEwi119ifg4TNAhUJ2WMKHUFyBBoQ_AUIBigB&dpr=3
And "Dave"
https://www.google.com.au/search?q=...oQ_AUIBigB&dpr=3#tbm=isch&q=dave+the+kangaroo
https://m.youtube.com/watch?v=kD_yUKB85HM
To my knowledge only one person has ever died in a non-MVA kangaroo attack, but many many more have been hospitalized ..... Lucky ! :eek!:
Chosun :gh:
Last edited: