Why I chose a refined porro binoculars in the rugged and tough world of roof binoculars? It is about the incomparable simplicity and beauty of this porro binoculars. It has attractive curved shapes, but which hide an extraordinary optics.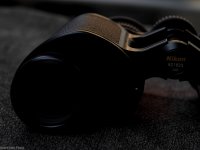 ---
The mechanics are extraordinarily robust, even if we are talking about a porro without water resistance . The structure is made of magnesium covered in some places with leather. It's like a sturdy piece of jewelry!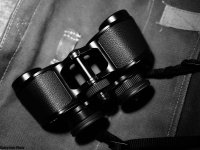 ---
The focus wheel feels firm but at the same time somewhat silky, without any play. The eyepiece bridge is very stiff and robust without unwanted movements. If I push harder, let's say on left eyepiece, the focus wheel starts to rotates without the bridge swinging!!! The quality of the mechanics is impeccable in this E II 8x30! Bravo Nikon!!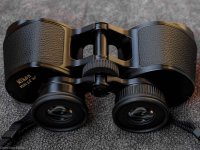 ---
Nikon EII It is about nostalgia of the old classic binoculars, but at the same time we must admit that the optical performances of this binoculars is up to date...it is amazing! The new coating does a fantastic job.
---
This binoculars has a surreal center resolution. I tested it on the resolution chart and it's my clearest 8x binoculars. From what I tested only Swarovski Habicht 8x30 can slightly exceeds EII in in term of resolution. The E II image is very contrasting and at the same time very very bright. I am interested if anyone knows what is the light transmission of this binocular with NEW coating, which I suspect should be greater than 90%-92%. In Gijs test (77% 550nm) and very different allbinos test results (89% 550nm) was tested the OLD models not the new one (the new one appeared after 2017 has a SN + 820***)
The huge 8.8 degree field of view it's very well known. But it is useful to say that EII has not so bad 14mm eyerelief. Here it depends on everyone's physiognomy. I personally can see the edge of the FOV with glasses on (indeed at the limit but I can see it).
The clarity extends somewhere to 70% of the FOV, which is pretty good for such a large field of view. The clarity decreases smoothly without being very obvious. Any way, direct view it is caught somewhere at maximum of 60 degrees. What exceeds this limit I use more the peripheral view, not direct view. Chromatic aberrations are only on the edges and not intrusive, very good here.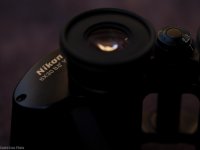 ---
To better estimate the performance of this binoculars I compared it with Nikon HGL 8X32 and Swarovski Habicht 8x30, another two very good binoculars (
I'm sorry I don't have any more pictures compared to Swarovski Habicht). These numbers are subjective being just a personal ranking after I compared these binoculars!