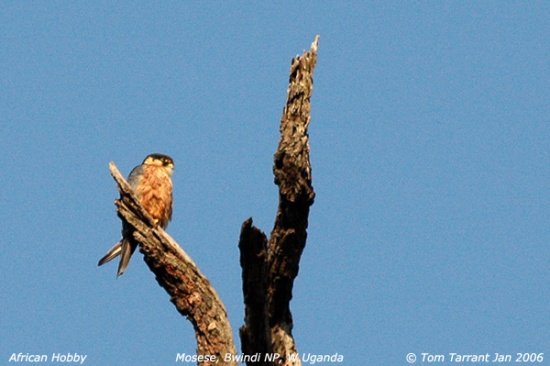 Falco cuvierii
Identification
30 cms. Black head, brown eye, grey throat, black back, orange legs. Sexes similar.
Distribution
Africa
Western Africa: Mauritania, Senegambia, Senegal, The Gambia, Guinea-Bissau, Guinea, Mali, Sierra Leone, Liberia, Ivory Coast, Burkina Faso, Ghana, Togo, Benin, Nigeria, Chad, Cameroon, Central African Republic, Equatorial Guinea, Gabon, Congo, Angola
Eastern Africa: Sudan, Ethiopia, Kenya, Uganda, Rwanda, Tanzania, Zambia, Mozambique
Southern Africa: Namibia, Botswana, Zimbabwe, South Africa
Taxonomy
Monotypic.
Habitat
Woodlands and grasslands, wetland and bushveld areas.
Behaviour
Diet
The diet includes birds and invertebrates.
Breeding
It nests in trees and 2-4 eggs are laid.
References
Avibase
The Kruger
External Links