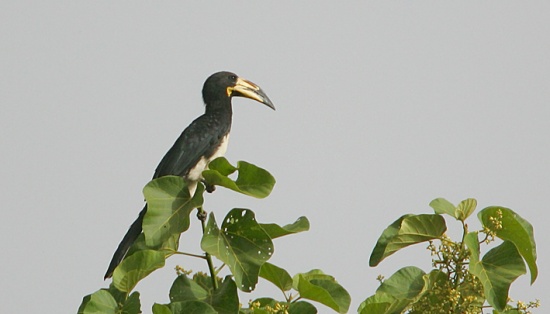 Lophoceros fasciatus
Identification
54cm

Mainly black
White belly and tail tip
Long curved black and yellow bill
Medium-sized casque

Sexes are similar, but the female has a smaller casque
Immature birds are duller, have a smaller bill, and no casque.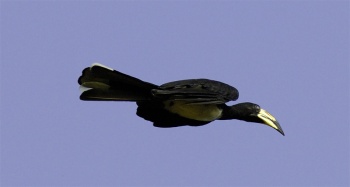 Distribution
Equatorial Africa:
Western Africa: Senegambia, Senegal, The Gambia, Guinea-Bissau, Guinea, Sierra Leone, Liberia, Ivory Coast, Ghana, Togo, Benin, Nigeria, Cameroon, Central African Republic, Equatorial Guinea, Gabon, Congo, Angola
Eastern Africa: Sudan, Kenya, Uganda, Tanzania
Taxonomy
Formerly placed in the genus Tockus.
Subspecies[1]
Habitat
Forests and scrub.
Behaviour
Breeding
The nest is in a tree hole and 4 white eggs are laid. During incubation, the entrance is blocked leaving a small gap to enable the male to pass food through to the female and chicks. Eventually the female breaks out and rebuilds the wall. Both adults then feed the chicks.
Diet
The diet includes fruit and insects.
Vocalisation
The call is a whistling pii-pii-pii-pii-.
References
Clements, J. F., T. S. Schulenberg, M. J. Iliff, D. Roberson, T. A. Fredericks, B. L. Sullivan, and C. L. Wood. 2015. The eBird/Clements checklist of birds of the world: v2015, with updates to August 2015. Downloaded from http://www.birds.cornell.edu/clementschecklist/download/
Avibase
Avibase
External Links
GSearch checked for 2020 platform.