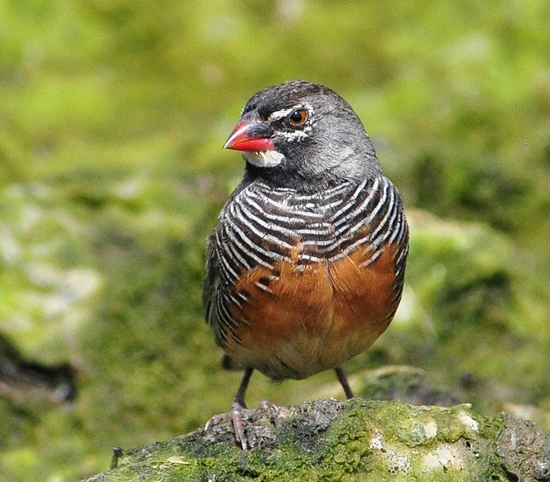 Ortygospiza fuscocrissa
Identification
Length 9.5-10 cm, mass 8-14 g. Very small, with short tail.
Males

Greyish-brown upperparts
White barring on chest and flanks
Black facial mask
Red bill when breeding
Pinkish legs
Long hind claw
Females lack the facial mask and are duller.

Juveniles similar to the female but have fainter barring and a darker bill.
Usually located and identified by repeated djink flight call. The absence of red or orange on the rump distinguishes it from Locustfinch and Orange-breasted Waxbill.
Distribution
Most of Africa south of Sahara; Senegal east to western Cameroon, southern Sudan to Angola and south to South Africa.
Taxonomy
It was formerly considered conspecific with Black-faced Quailfinch.
Subspecies
This species has five subspecies[1]:
O. f. muelleri (bradfieldi, miniscula):
Habitat
Open areas with patchy grass growth, near water, sandy grassland, marsh, farms and croplands, and recently mowed areas.
Behaviour
Diet
The diet includes small grass seeds and on occasional spiders or insects.
Breeding
A dome-shaped nest of grass stems and blades is built on the ground. The clutch consists of 4-6 white eggs which are incubated by both parents.
Vocalisation
The call is a metallic djink, trillink or chwillink (often given in flight), and the song is a series of click, clack, cluck notes delivered rapidly and repeatedly.
References
Clements, J. F., T. S. Schulenberg, M. J. Iliff, B.L. Sullivan, C. L. Wood, and D. Roberson. 2012. The eBird/Clements Checklist of Birds of the World. 6th ed., with updates to October 2012. Ithaca: Cornell Univ. Press. ISBN 978-0801445019. Spreadsheet available at http://www.birds.cornell.edu/clementschecklist/downloadable-clements-checklist
Gill, F and M Wright. 2008. Birds of the World: Recommended English Names. Princeton University Press, Princeton NJ, USA. 2006. ISBN 9780691128276. Update (2008) downloaded from http://worldbirdnames.org/names.html.
Hockey, PAR, WRJ Dean, and PG Ryan, eds. 2005. Roberts' Birds of Southern Africa. 7th ed. Cape Town: John Voelcker Bird Book Fund. ISBN 978-0620340533
Answers.com
Feathered Flyer
Recommended Citation
External Links