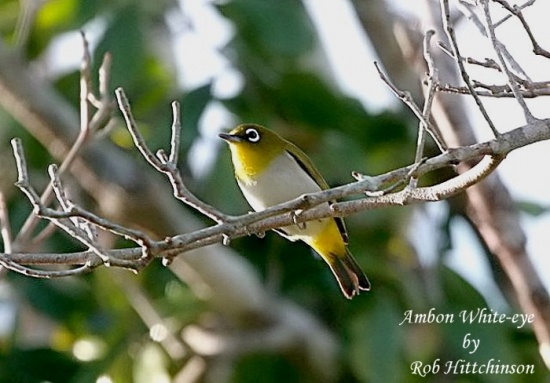 Alternative names: Ambon Yellow White-eye; Amboina White-eye; Kühn's White-eye
Zosterops kuehni
Identification
12cm.
Olive-green top of head and upperparts, forecrown more dusky
Dull black lores and distinctive streak under eye
White eyering broken at front by blackish loral line
Blackish-brown flight-feathers and tail feathers, broadly margined with olive-green
Yellow chin, throat and undertail-coverts
Greyish-white rest of underparts
Bill black above, greyish below
Sexes similar, juveniles undescribed.
Distribution
Ambon and Seram Islands, Indonesia.
A restricted-range species. Moderately common on Ambon, only known from one specimen on Seram.
Taxonomy
This is a monotypic species.
Habitat
Moist lowland forests, moist shrubland, and rural gardens.
Occurs from sea-level up to 500m.
Behaviour
No information about diet.
Usually seen in pairs or small groups. A fairly active bird with rather delicate movements.
No information about breeding or movements.
References
Clements, JF. 2011. The Clements Checklist of Birds of the World. 6th ed., with updates to August 2011. Ithaca: Cornell Univ. Press. ISBN 978-0801445019. Spreadsheet available at http://www.birds.cornell.edu/clementschecklist/downloadable-clements-checklist
Del Hoyo, J, A Elliott, and D Christie, eds. 2008. Handbook of the Birds of the World. Volume 13: Penduline-tits to Shrikes. Barcelona: Lynx Edicions. ISBN 978-8496553453
Recommended Citation
External Links
GSearch checked for 2020 platform.1