Apalis thoracica
Includes Taita Apalis, Yellow-throated Apalis, Namuli Apalis
Identification
Length 12-13 cm, mass 8.3-13.1 g.
Adult: Narrow black breastband together with pale eyes separate this species from others.
Distribution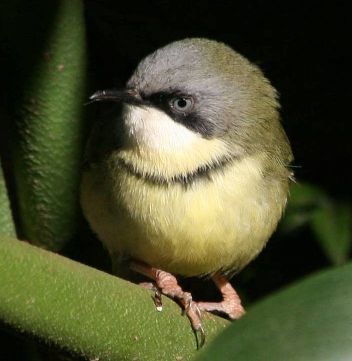 Eastern and southern Africa: Kenya, Tanzania, Zambia, Mozambique, Malawi, Botswana, Zimbabwe, South Africa, Lesotho, and Swaziland.
Taxonomy
Some authorities split this taxon into four or five species; A. t. fuscigularis (Taita Apalis), A. t. flavigularis (Yellow-throated Apalis) and A. t. lynesi (Namuli Apalis) are recognised as separate (and threatened) species by Birdlife International[1] and the IOC[3].
Subspecies
As many as 21 subpecies have been described (9 in South Africa)[2]. The colours of the crown, back and underparts vary.
A. t. fuscigularis: South-eastern Kenya (Taita Hills)
A. t. pareensis: Northern Tanzania (South Pare Mountains)
A. t. uluguru: North-eastern Tanzania (Uluguru Mountains)
A. t. whitei: Eastern Zambia to southern Malawi and adjacent Mozambique (Zobue)
A. t. flavigularis: South-eastern Malawi (east of Nyasa-Shire Rift) and adjacent Mozambique
A. t. quarta: North-eastern Zimbabwe (Mount Nyangani) and Mozambique (Mount Gorongoza)
A. t. arnoldi: Eastern Zimbabwe and adjacent Mozambique
A. t. lynesi: Northern Mozambique (Mount Namuli)
A. t. spelonkensis: Eastern and northern Transvaal
A. t. lebomboensis: North-eastern Zululand (Lebombo Mountains) to eastern Swaziland and southern Mozambique
A. t. drakensbergensis: South Africa (Drakensberg Mountains to western Swaziland)
A. t. thoracica: South-eastern Cape Province (Great Kei and Gamtoos River to Umtata)
A. t. claudei: Southern Cape Province (Knysna to Humansdorp and Beaufort West)
A. t. capensis: South and south-western Cape Province (Paarl to Oudtshoorn and Mossel Bay)
A. t. griseopyga: Coastal western Cape Province (Lamberts Bay to Cape Town)
Habitat
Forest edges, moist woodlands and shrublands, gardens.
Behaviour
Singly, in pairs or in groups of up to six individuals. Inquisitive and fairly bold.
Diet
Forages restlessly for invertebrates, gleaned from bark, leaves and flowers; also eats fruit.
Breeding
Monogamous and territorial. The nest is oval or dome-shaped with a side-top entrance; built of fine plant material, lichen, moss and spider web. Two to four eggs are laid August to April. Parasitised by Red-chested Cuckoo and Klaas's Cuckoo.
References
BirdLife International. 2009. The BirdLife checklist of the birds of the world, with conservation status and taxonomic sources. Version 2. Downloaded from http://www.birdlife.org/datazone/species/downloads/BirdLife_Checklist_Version_2.zip [.xls zipped 1 MB].
Clements, JF. 2008. The Clements Checklist of Birds of the World. 6th ed., with updates to December 2008. Ithaca: Cornell Univ. Press. ISBN 978-0801445019.
Gill, F, M Wright and D Donsker. 2009. IOC World Bird Names (version 2.0). Available at http://www.worldbirdnames.org/.
Hockey PAR, Dean WRJ & Ryan PG (eds) 2005. Robert's Birds of Southern Africa, 7th edition. John Voelcker Bird Book Fund, Cape Town, South Africa. ISBN 0620340533
Sinclair I & Ryan P. 2003. Birds of Africa south of the Sahara. Princeton University Press. ISBN 0620207299
Recommended Citation
External Links