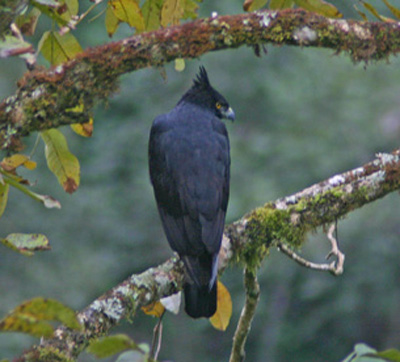 Spizaetus isidori
Oroaetus isidori
Identification
60–80 cm
The adult has mostly black upperside and head, chestnut underside, and tail with proximal part gray.
The juvenile is much paler, gradually becoming darker with age. Legs are long.
Distribution
Coastal mountains of Venezuela to Andes of north-western Argentina
Taxonomy
This is a monotypic species.[1]
It was recently moved from the genus Oroaetus to Spizaetus.
Habitat
Mountains with humid forest in subtropical zone.
Behaviour
Diet
Not well recorded. Their diet is thought to be large birds and tree dwelling mammals, such as squirrels.
References
Clements, JF. 2008. The Clements Checklist of Birds of the World. 6th ed., with updates to December 2008. Ithaca: Cornell Univ. Press. ISBN 978-0801445019.
Recommended Citation
External Links
#Handbook of the Birds of the World Alive (retrieved July 2014)