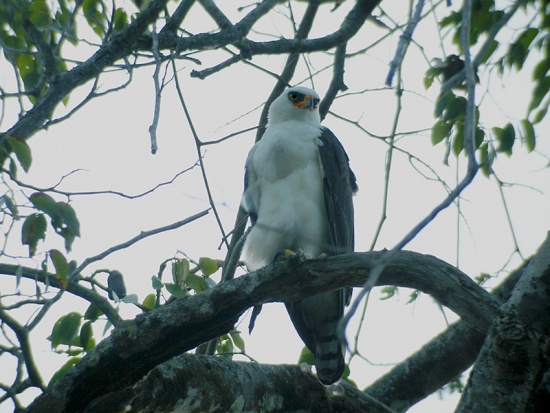 Spizaetus melanoleucus
Spizastur melanoleucus
Identification
Adult
50-60 cm.
White head, neck and body
Small black crest
Black mask
Black wings
White tipped, brownish tail barred black/dark grey
Orange iris
Yellow feet with black talons
Black bill with a yellow cere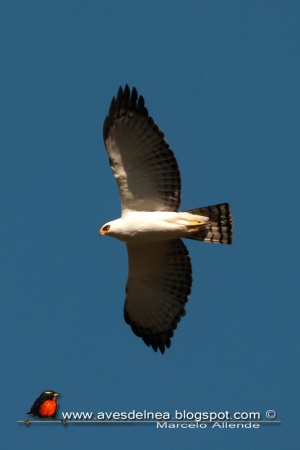 Sexes similar, but female larger
Immature birds - pale edges on upperwing coverts, brownish-grey back.
Distribution
Occurs in Mexico, in Veracruz, Oaxaca, Chiapas and rarely Yucatán, in Central America south to Panama and in South America from Colombia, Venezuela, and the Guianas south to southern Brazil, Paraguay, and northern Argentina. Rare over most of range. Resident.
Taxonomy
This is a monotypic species[1].
It was formerly placed in its own genus Spizastur
Habitat
Forest from sea-level up to 1,500m, also forest edge and riverine woodland.
Behaviour
Diet
The diet includes mammals, toads, and a wide variety of birds.
Breeding
It nests in the forest canopy, building a large stick nest (as much as 8 ft dia) high up in exposed trees on ridges.
References
Clements, JF. 2011. The Clements Checklist of Birds of the World. 6th ed., with updates to August 2011. Ithaca: Cornell Univ. Press. ISBN 978-0801445019. Spreadsheet available at http://www.birds.cornell.edu/clementschecklist/downloadable-clements-checklist
Wikipedia
BF Member observations
Recommended Citation
External Links