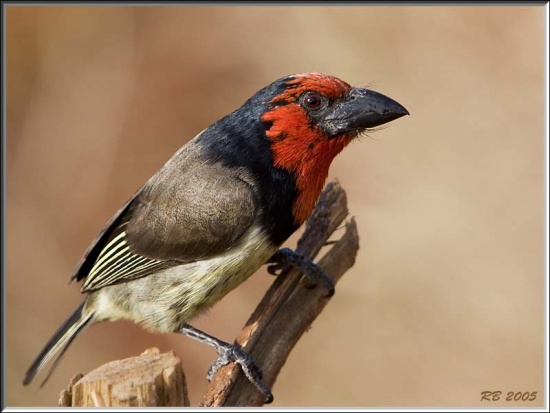 Lybius torquatus
Identification
17·5–19 cm
Red head and throat
Brown back
Black bill and legs
Red eyes
Distribution
Africa: As far north as Democratic Republic of Congo, Uganda and Kenya and south to South Africa.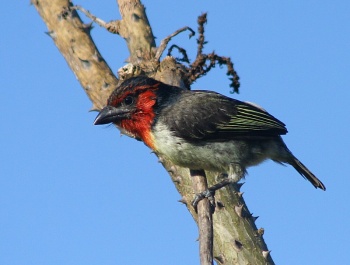 Taxonomy
Subspecies
Lybius torquatus has seven subspecies[1]:
Habitat
Open woodlands, gardens and pastures.
Behaviour
Diet
Feeds mainly on fruit and berries, including grapes, guavas and figs and insects.
Breeding
Nests in a hole, usually excavated in the dead trunk or branch of a tree. Parasitised by Lesser Honeyguide.
References
Clements, J. F., T. S. Schulenberg, M. J. Iliff, D. Roberson, T. A. Fredericks, B. L. Sullivan, and C. L. Wood. 2014. The eBird/Clements checklist of birds of the world: Version 6.9., with updates to August 2014. Downloaded from http://www.birds.cornell.edu/clementschecklist/download/
Avibase
BirdsinSA
Handbook of the Birds of the World Alive (retrieved January 2015)
Recommended Citation
External Links