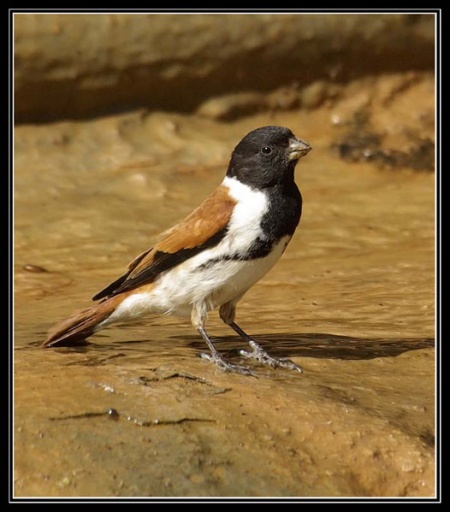 Serinus alario
Alario alario, Crithagra alario
Includes Damara Canary
Identification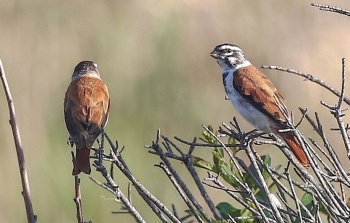 Length 12–13 cm (4¾-5 in), mass 11-13 g. A striking canary with bold colouration.
Adult male (S. a. alario): Head, neck, chin, throat and centre of upper breast black, extending in an inverted 'V' to the lower breast; belly, centre of lower breast, flanks, and sides of the upperbreast white; back, rump, tail and wing coverts chestnut.
Adult female: Grey head, throat and breast, and white belly; chestnut back, tail and wing coverts.
Distribution
South Africa, Namibia and Lesotho.
Taxonomy
This species has two subspecies:1
Range overlaps with S. a. alario, but extends further north in Namibia, and not as far south or west in South Africa.
Male has a pied (rather than black) head, with a white eyebrow, cheeks, chin and throat; female has a faint whitish head pattern similar to that of the male.
Some authorities2,3 consider S. a. leucoleamus a separate species, the Damara Canary, Serinus leucolaemus.
This species was formerly placed in genus Alario by Clements.
Habitat
Arid to semi-arid shrublands and grasslands; also weedy road verges, croplands and gardens.
Behaviour
Found in pairs or family groups when breeding; when not breeding, forms flocks of up to several hundered birds.
Diet
Forages on the ground and in shrubs, trees and grasses for seeds; also eats buds, petals, fruit and termites.
Breeding
Probably monogamous and territorial. The nest is a cup built by the female using dry grass, twigs and bark and lined with plant down; placed within a metre of the ground in a shrub or small tree. Two to five eggs are laid; incubated for 13-14 days by the female.
References
Hockey, PAR, WRJ Dean, and PG Ryan, eds. 2005. Roberts' Birds of Southern Africa. 7th ed. Cape Town: John Voelcker Bird Book Fund. ISBN 978-0620340533
Sinclair, I and P Ryan. 2003. Birds of Africa South of the Sahara. Princeton: Princeton Univ. Press. ISBN 978-0691118154
Clements, J. F., T. S. Schulenberg, M. J. Iliff, D. Roberson, T. A. Fredericks, B. L. Sullivan, and C. L. Wood. 2017. The eBird/Clements checklist of birds of the world: v2017, with updates to August 2017. Downloaded from http://www.birds.cornell.edu/clementschecklist/download/
Recommended Citation
External Links