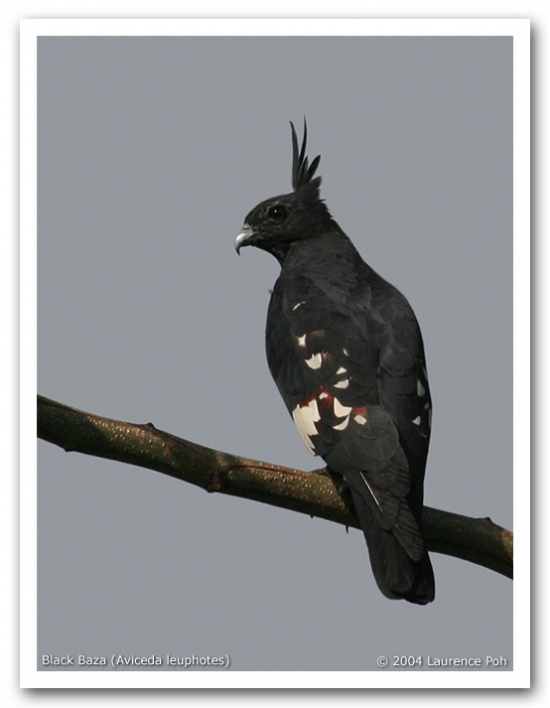 Aviceda leuphotes
Identification
33cm (13 in)
A largely black raptor with a long crest. Broad white band across upper breast, rest of underparts black-and-chestnut barred. Upperparts variably marked with chestnut and white.
Female similar to male but lacks white on secondaries.
'Juvenile also similar but duller overall and with white streaks on throat. Broad and rounded wings, moderately long tail.

Distribution
Southern Asia. Breeds in the foothills of the Himalayas and east across Burma and southern China to Hainan. In winter also found in SW India (Western Ghats), Indochina to Malaysia, Sumatra and less commonly to western Java. Recorded in Sri Lanka.
Northern birds migrate through Indochina and the Malay Peninsula to Sumatra.
Taxonomy
Subspecies
Usually four subspecies are recognized[1]:
Wolfei is sometimes considered to belong to syama. Birds from Burma are sometimes placed in burmana. Some authors even question the validity of syama. More study needed for clarification.
Habitat
Open evergreen or deciduous forest. This species is often found around clearings or wide streams, sometimes near villages. From the lowlands up to 1000m.
Behaviour
Action
Reminiscent of a corvid in flight.
Breeding
Only little known about breeding. March to May in Burma, February to June in South-western India, April to June in North-eastern India. The nest is quite small and placed high in a tree, often near water. Lays 2-3 eggs which are incubated by both sexes.
Diet
Feeds on large insects, mostly grasshoppers. Takes also lizards and frogs, sometimes small birds or mammals. Perch hunting, mostly at dawn or dusk or when overcast. Known also to hunt in groups.

References
Clements, J. F., T. S. Schulenberg, M. J. Iliff, D. Roberson, T. A. Fredericks, B. L. Sullivan, and C. L. Wood. 2015. The eBird/Clements checklist of birds of the world: v2015, with updates to August 2015. Downloaded from http://www.birds.cornell.edu/clementschecklist/download/
Recommended Citation
External Links