Alternative names: Reinwardt's Babbler; Black-eyed Babbler
Turdoides reinwardtii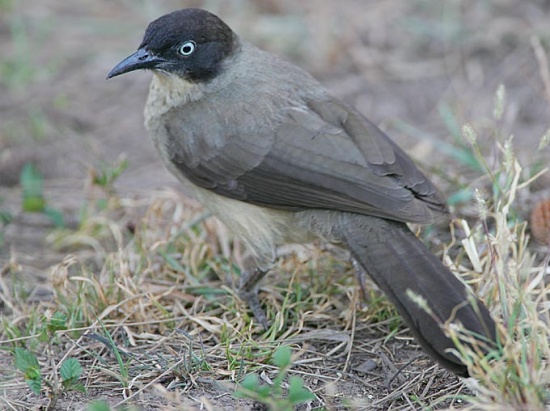 Identification
With 25 - 26cm a fairly large Turdoides-babbler:
Blackish hood
Grey-brown upperparts
White throat and underparts, spotted on breast
White eye-ring
Buff flanks
Distribution
West Africa from Senegal east to Cameroon and Chad, locally also in Central African Republic and Democratic Republic of Congo. Resident species.
Taxonomy
There are 2 subspecies:
Habitat
Gallery forest, thick scrub in open savanna woodland, bamboo groves, tall scrub along streams, parkland, sometimes mangroves. From sea-level to 1000m.
Behaviour
Diet
The diet includes insects and fruit. Forages on ground, flipping falling leaves with bill. Found in small flocks of 6 to 10 birds.
Breeding
It builds a cup shaped nest in dense foliage and 2-3 eggs are laid. Co-operative breeder.
References
Del Hoyo, J, A Elliott, and D Christie, eds. 2007. Handbook of the Birds of the World. Volume 12: Picathartes to Tits and Chickadees. Barcelona: Lynx Edicions. ISBN 978-8496553422
Recommended Citation
External Links