Halcyon malimbica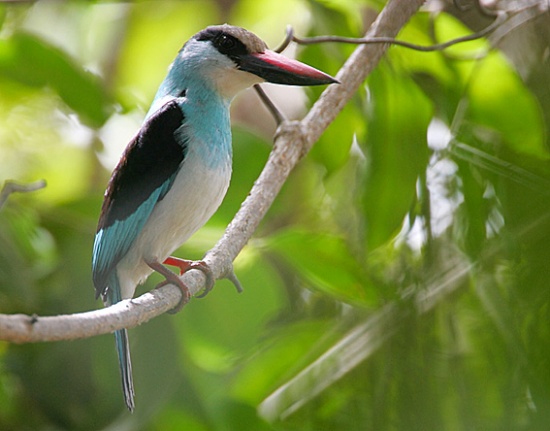 Identification
25 cm
Bright blue head, back, wing panel and tail
White underparts
Blue breast band
Black shoulders
Red upper mandible and black lower mandible
Bright red legs

Sexes similar
Juveniles: duller than adults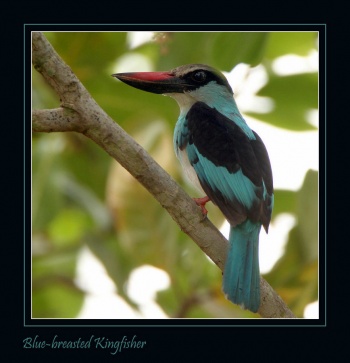 Distribution
Sub-Saharan Africa: From Mauritania to Ethiopia, Tanzania, Zambia, and Angola.
Taxonomy
Subspecies[1]
Halcyon malimbica has four subspecies:
Príncipe Island and (formerly) São Tomé Island (Gulf of Guinea)
Habitat
Freshwater creeks & Mangroves, well-wooded wetland with good canopy cover; gardens.
Behaviour
Diet
The diet includes frogs and fish, large insects, arthropods, and the Oil Palm fruits.
Breeding
It nests in a hole in a tree termite nest. The clutch consists of 2 round white eggs.
Vocalisation
Call: a whistled pu-pu-pu-pu-ku-ku-ku-ku.
References
Clements, JF. 2009. The Clements Checklist of Birds of the World. 6th ed., with updates to December 2009. Ithaca: Cornell Univ. Press. ISBN 978-0801445019.
Avibase
Wikipedia
BF Member observations
Recommended Citation
External Links