Riccordia bicolor
Cyanophaia bicolor
Identification
About 9.5 cm (3.75 inches)
Male is bluish-green overall, with violet-blue on head, throat, upper breast and tail; tail looks slightly forked.
Female has grayish-white underparts and green upperparts except for the tail which has white tail corners and a bluish subterminal band. She also has a blackish earpatch.
Both sexes: lower mandible is reddish with a black tip.
Similar Species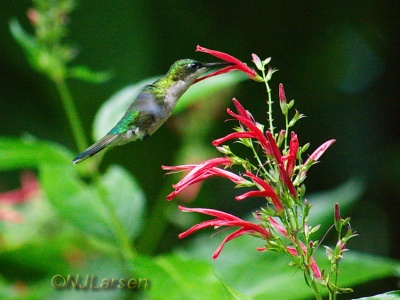 The main confusion in the area will be between the female and a female Antillean Crested Hummingbird. The latter has a bill that is proportionally slightly shorter and all black, and does not show blue on the tail. The two species should be the same size according to measurements, but female Blue-headed Hummingbird gives impression of being a larger bird with longer tail and with much white on the distal underside of the tail when seen in the field.
Distribution
Lesser Antilles (mountains of Dominica and Martinique)
Taxonomy
This is a monotypic species[1].
Habitat
Higher elevation areas in wet forest and borders.
Behaviour
Nest is mostly low, up to 8 feet.
References
Clements, J. F., T. S. Schulenberg, M. J. Iliff, S. M. Billerman, T. A. Fredericks, J. A. Gerbracht, D. Lepage, B. L. Sullivan, and C. L. Wood. 2021. The eBird/Clements checklist of Birds of the World: v2021. Downloaded from https://www.birds.cornell.edu/clementschecklist/download/
Recommended Citation
External Links
GSearch checked for 2020 platform.