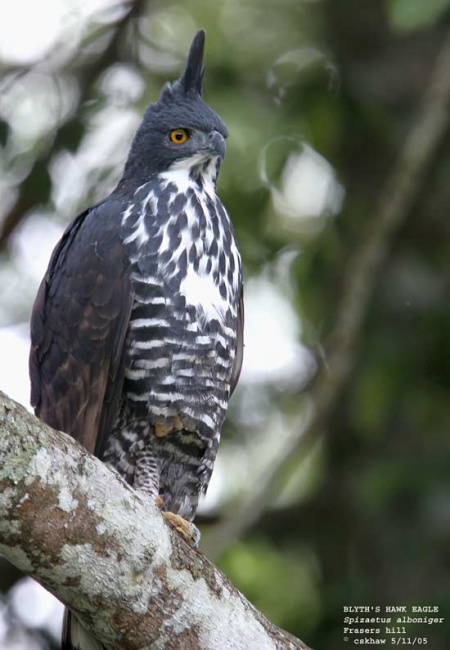 Nisaetus alboniger
Spizaetus alboniger
Identification
51-58cm
Black upperparts
Black spotted breast, barred below
Thick white band on uppertail and undertail
Prominent crest

Juvenile
Dark brown upperparts
Light brown head and underparts
Distribution
South-east Asia: found in the forests of southern Myanmar to Malay Peninsula, Sumatra and Borneo.
Taxonomy
This is a monotypic species[1].
It was formerly placed in the genus Spizaetus.
Habitat
Lower montane rain forest. Broadleaf evergreen forest, forest edges up to 1,980 meters.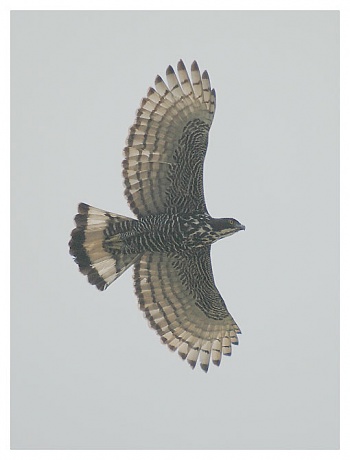 Behaviour
It builds a stick nest in a tree; a single egg is laid.
References
Clements, J. F., T. S. Schulenberg, M. J. Iliff, B.L. Sullivan, C. L. Wood, and D. Roberson. 2012. The eBird/Clements Checklist of Birds of the World. 6th ed., with updates to October 2012. Ithaca: Cornell Univ. Press. ISBN 978-0801445019. Spreadsheet available at http://www.birds.cornell.edu/clementschecklist/downloadable-clements-checklist
Avibase
Wikipedia
angelfire (the late Laurence Poh)
Recommended Citation
External Links