Line 1:
Line 1:
−

;Serinus sulphuratus

+
−

[[Image:Brimstone_Canary.jpg|thumb|550px|right|Photo by jdbirdman]]

+

 

−

==Description==

+

;Serinussulphuratus

−

Male is bright yellow beneath with an olive-green malar stripe and bright yellow supercilliary stripe. Occurs mostly either singly or in pairs.

+

[[Image:Brimstone_Canary.jpg|thumb|550px|right|Photo by jdbirdman ]]

 

==Identification==

 

==Identification==

−

aka Bully Canary. Photographed in South Africa.

+

.

 
+
 
+
 
+
 
+
 
+
 
+
 
+
 
+
 
+
 
+
 
+

 

 
+
 
+
 
+
 
+

in

 
+
 
+
 
+

Africa .

 

==External Links==

 

==External Links==

 

{{GSearch|Serinus+sulphuratus}}  

 

{{GSearch|Serinus+sulphuratus}}  

−

[[Category:Birds]]

+

[[Category:Birds]]
---
Revision as of 21:36, 16 August 2008
Alternative name: Bully Canary
Serinus sulphuratus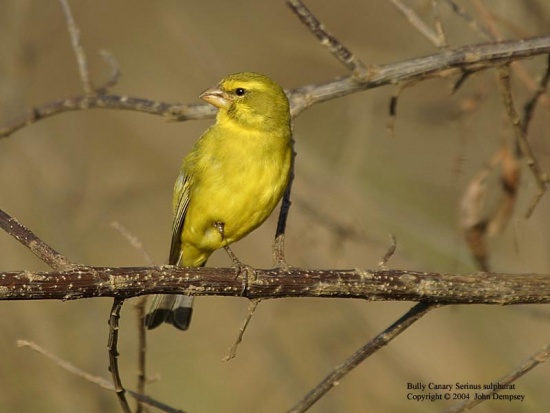 Identification
Length 13-15 cm. A large canary with a big bill. The male is bright yellow beneath with an olive-green malar stripe and bright yellow supercilliary stripe.
Distribution
Africa: Uganda and Kenya, south to eastern and southern South Africa.
Taxonomy
There are six subspecies:1
S. s. frommi
S. s. shelleyi
S. s. sharpii
S. s. languens
S. s. wilsoni
S. s. sulphuratus
Habitat
Woodland, thicket and gardens.
Behaviour
Occurs mostly either singly or in pairs.
References
Clements JF. 2007. The Clements Checklist of Birds of the World. 6th ed., with updates to October 2008. Cornell University Press. ISBN 9780801445019
Sinclair I & Ryan P. 2003. Birds of Africa south of the Sahara. Princeton University Press. ISBN 0620207299
External Links