Alternative name: Bully Canary
Serinus sulphuratus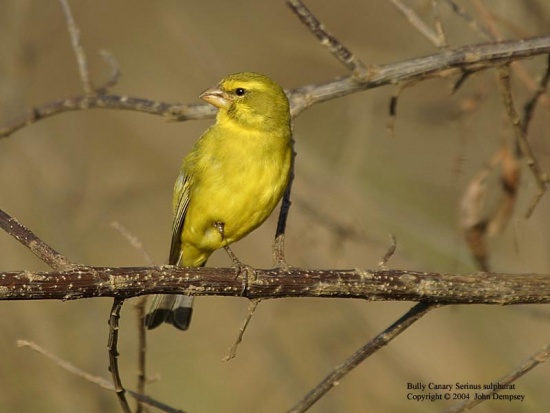 Identification
Length 13-15 cm
A large canary with a big bill.
The male is bright yellow beneath with an olive-green malar stripe and bright yellow supercilliary stripe.
Distribution
Africa: Uganda and Kenya, south to eastern and southern South Africa.
Taxonomy
Placed in genus Crithagra by Gill and Donsker.
Subspecies[1]
There are 3 subspecies:
South-western and southern Cape Province
Two additional subspecies frommi and shelleyi are not generally recognised, and languens is usually considered invalid[2].
Habitat
Woodland, thicket, coastal scrub and gardens.
Behaviour
Occurs mostly either singly or in pairs.
References
Clements, JF. 2009. The Clements Checklist of Birds of the World. 6th ed., with updates to December 2009. Ithaca: Cornell Univ. Press. ISBN 978-0801445019.
Avibase
Sinclair I & Ryan P. 2003. Birds of Africa south of the Sahara. Princeton University Press. ISBN 0620207299
Recommended Citation
External Links