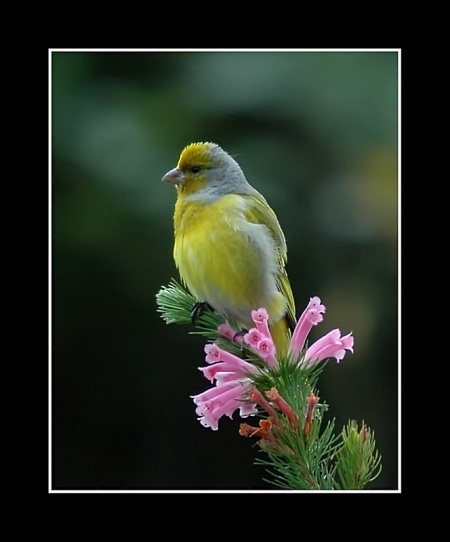 Serinus canicollis
Includes Yellow-crowned Canary
Identification
11·5–14 cm (4½-5½ in)
Adult male
Green back with black edged wing feathers wings and tail
Yellow underparts, rump and tail sides
White lower belly
Rear head and neck are grey
Mustard yellow face

Female duller than male, but has less grey on the head, yellow restricted to forehead, back more streaked, upper breast grayer, central and lower breast paler.
Juvenile: like female but duller and more heavily streaked above and below, underparts off-white.
Similar Species
This species is easily distinguished from the Yellow-fronted Canary by its lack of black face markings. Juvenile can be confused with juv. Yellow Canary but latter has distinct pale supercilium.
Distribution
South-eastern southern Africa.
Taxonomy
Formerly considered conspecific with Yellow-crowned Canary.
Subspecies
This is a polytypic species. Three subspecies are recognised[1]:
S. c. canicollis; south-western Cape to western Free State and southern KwaZulu-Natal
S. c. thompsonae; Lesotho, eastern Free State and northern KwaZulu-Natal to Limpopo Province
Primary coverts and alula brownish black; mantle and shoulders pale neutral gray.
Forehead, crown and face greener and less yellow than nominate. Mantle, back and scapulars greenish, collar bluish gray. Underparts more greenish, less yellow. Slightly smaller.
Habitat
Scrub and grasslands with trees, copses, plantations, gardens, parks, road verges, croplands, orchards, fybos, montane grasslands. Most common in highland areas, but is found in coastal bush in South Africa.
Behaviour
Occurs singly, in pairs, or in flocks of up to 500.
Diet
Forages for seeds on ground, and in scrub, weeds, and trees.
Breeding
It builds a compact cup nest, commonly in a shrub.
Vocalisation
Call: A sweet "peet, swee-eee" rising in pitch. Flight call usually a three-note "tsit-it-it"
Song: Sustained series of rich, loud, clear and fast jumbled warbles, trills and twitters, often in chorus with several males. Given from a perch or in flight display.
Movements
Resident and mostly sedentary, but some local movement and nomadism at edge of range. May undergo regular altitudinal movements.
References
Clements, J. F., T. S. Schulenberg, M. J. Iliff, D. Roberson, T. A. Fredericks, B. L. Sullivan, and C. L. Wood. 2017. The eBird/Clements checklist of birds of the world: v2017, with updates to August 2017. Downloaded from http://www.birds.cornell.edu/clementschecklist/download/
Clement, P. (2018). Cape Canary (Serinus canicollis). In: del Hoyo, J., Elliott, A., Sargatal, J., Christie, D.A. & de Juana, E. (eds.). Handbook of the Birds of the World Alive. Lynx Edicions, Barcelona. (retrieved from https://www.hbw.com/node/61294 on 26 June 2018).
Fry H, Keith S,Woodcook M & Willis I. 2004. Birds of Africa Vol VII: Sparrows to Buntings. Princeton University Press. ISBN 0713665319
Hockey, PAR, WRJ Dean, and PG Ryan, eds. 2005. Roberts' Birds of Southern Africa. 7th ed. Cape Town: John Voelcker Bird Book Fund. ISBN 978-0620340533
Sinclair, I and P Ryan. 2003. Birds of Africa South of the Sahara. Princeton: Princeton Univ. Press. ISBN 978-0691118154
Sinclair, I., Hockey, P.A.R., and Arlott, N. (2005). The Larger Illustrated Guide to Birds of Southern Africa. Struik, Cape Town. ISBN 978-1775840992
AvianWeb
Recommended Citation
External Links