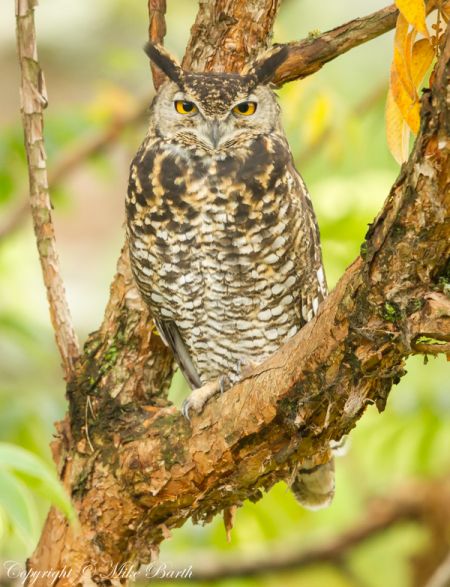 Bubo capensis
Includes Mackinder's Eagle-Owl
Identification
Length 48-58 cm (19-22¾ in)
Dark brown, buff spotted upperparts
Creamy-buff, dark blotched underparts
Pale buff facial disk
Orange-yellow iris
Distribution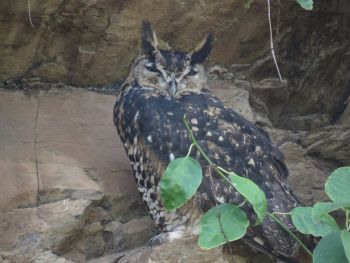 Africa
Eastern Africa: Eritrea, Ethiopia, Kenya, Uganda, Tanzania, Mozambique andMalawi
Southern Africa: Zimbabwe, Namibia, South Africa, Lesotho and Swaziland
Taxonomy
Subspecies
Bubo capensis has three subspecies:[1]
mackinderi is sometimes considered a full species Mackinder's Eagle Owl[2].
Habitat
Mountainous regions, hilly country, and rocky gorges.
Behaviour
Diet
The diet includes mammals, birds, reptiles, frogs and large invertebrates.
Breeding
A scrape is made in a cliff ledge, in cave entrance or under bush. The 1-3 eggs are incubated for 35 days. The young fledge 6-7 weeks later.
References
Clements, J. F., T. S. Schulenberg, M. J. Iliff, S. M. Billerman, T. A. Fredericks, B. L. Sullivan, and C. L. Wood. 2019. The eBird/Clements Checklist of Birds of the World: v2019. Downloaded from http://www.birds.cornell.edu/clementschecklist/download/
Lepage D. (2020) [Avibase - https://avibase.ca/C4227465]. Retrieved 29 November 2020
Recommended Citation
External Links