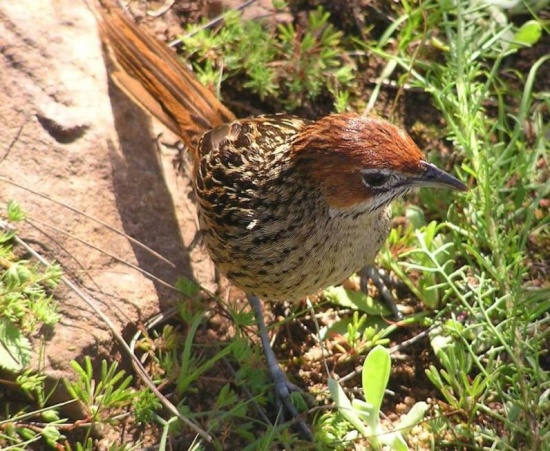 Alternative name: Cape Grass-Warbler
Sphenoeacus afer
Identification
Length 19-23 cm, mass 27-34 g.
Adult: Crown and ear coverts rusty red, streaked black on hindcrown and nape. There are two black malar stripes on each side of the pale buff throat. The back is black streaked buff and the rump is rufous. The underparts are buff with black streaks on the flanks. The tail is rufous and fairly long, often looking untidy as the rectrices have pointed tips.
Immature: Similar to the adult, but duller, and with dark streaks on the crown.
Distribution
Southern Africa: Southern and eastern South Africa, Lesotho, eSwatini, eastern Zimbabwe highlands and adjacent Mozambique highlands.
Taxonomy
The only species in the genus Sphenoeacus. Recent molecular studies indicate that this species is one of a group of African warblers which includes the Sylvietta crombecs, Rockrunner Achaetops pycnopygius, Victorin's Warbler Cryptillus (or Bradypterus) victorini, and Yellow Longbill Macrosphenus flavicans (Beresford et al. 2005).
Subspecies
There are four subspecies[1] based on size and the varying intensity of the colour of the upperparts and of the streaking of the underparts.
Lesotho to Transkei and Port Elizabeth
South-western Cape Province
Habitat
Rank and shrubby grasslands, Restio fynbos, bracken and heath.
Behaviour
Generally inconspicuous as it forages on the ground in rank vegetation, but in the early morning frequently sunbathes on, or calls from, a prominent perch.
References
Clements, JF. 2009. The Clements Checklist of Birds of the World. 6th ed., with updates to December 2009. Ithaca: Cornell Univ. Press. ISBN 978-0801445019.
Beresford P, Barker FK, Ryan PG & Crowe T M 2005. African endemics span the tree of songbirds (Passeri): molecular systematics of several evolutionary 'enigmas'. Proc. R. Soc. B 272, 849–858.
Hockey, PAR, WRJ Dean, and PG Ryan, eds. 2005. Roberts' Birds of Southern Africa. 7th ed. Cape Town: John Voelcker Bird Book Fund. ISBN 978-0620340533
Recommended Citation
External Links