m

m

Line 1:
Line 1:
 

;Passer melanurus

 

;Passer melanurus

−

[[Image:Cape_Sparrow.jpg|thumb|550px|right|Photo by Mybs]]

+

[[Image:Cape_Sparrow.jpg|thumb|550px|right|Photo by Mybs]]

 

==Other Names==

 

==Other Names==

 

Deutsch: Kapsperling; Afrikaans: Gewone Mossie

 

Deutsch: Kapsperling; Afrikaans: Gewone Mossie
---
Revision as of 11:57, 3 September 2007
Passer melanurus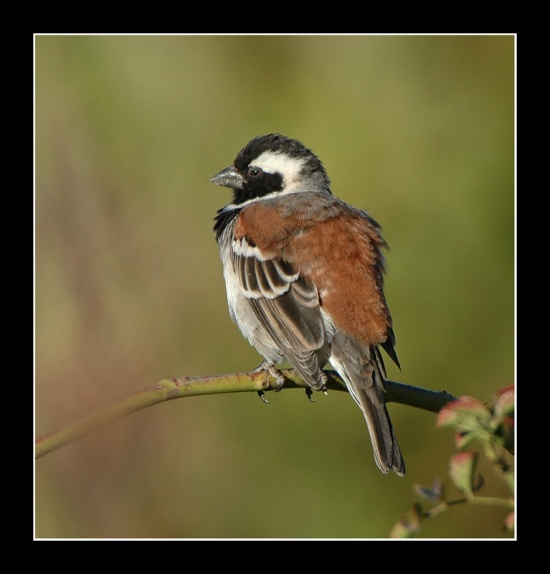 Other Names
Deutsch: Kapsperling; Afrikaans: Gewone Mossie
Description
14 - 16 cm and 29 g. Head black with broad white semicircles from behind eyes to side of throat. Nape and mantle greyish, merging into rufous or chestnut back and rump.
Habitat
The Cape Sparrow lives in dry areas of Southern Africa like the arid and semi-arid savanna, dry woodland along drainage lines and seasonal watercourses.
Diet
Forages mainly by hopping on ground, but also takes fruits, seeds and nectar directly from plants.
Reproduction
The Cape Sparrow nests singly, or in loose colonies of up to 100 pairs, with up to 15 active nests in one tree. Nests thickly lined with feathers or soft plant material. Laying dates usually from August to March.
External Links