m

 

m

 

(8 intermediate revisions by 7 users not shown)
Line 1:
Line 1:
−

;Oenanthe pileata

+

[[Image:Capped_Wheatear.jpg|thumb||right|Photo by Mybs]]

−

[[Image:Capped_Wheatear.jpg|thumb|350px|right|Photo by Mybs]]

+
 

==Identification==

 

==Identification==

−

Location: Blouvlei near Cape Town

+
 
+
 
+
 
+
 
+
 
+
 
+
 
+
 
+
 
+

:

 
+
 
+
 
+
 
+
 
+
 
+
 
+
 
+
 
+
 
+

 

 
+
 
+
 
+
 
+
 
+
 
+
 
+
 
+
 
+
 
+
 
+
 
+
 
+

 

 
+
 
+
 
+
 
+
 
+
 
+
 
+
 
+
 
+
 
+
 
+
 
+
 
+
 
+
 

==External Links==

 

==External Links==

−

*[http://www.birdforum.net/pp_gallery/showgallery.php?mcats=all&what=allfields&si=Oenanthe+pileata+ View more images of Capped Wheatear in the gallery]

+

Oenanthe+pileata

−

[[Category:Birds]]

+

[[Category:Birds]]
---
Latest revision as of 21:37, 22 December 2016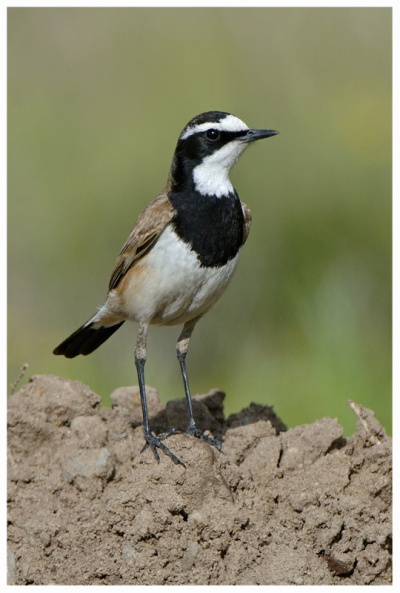 Oenanthe pileata
Identification
17-18 cm
Black cap, cheeks, breast band
White eye stripe and throat
White underparts
Buff flanks and lower belly
Black tail base, centre of tail forms an inverted "T"
White rump
Black pointed bill
Black legs

Juvenile: brown cap and cheeks
Distribution
Africa
Western Africa: DRC and Angola
Eastern Africa: Kenya, Tanzania, Zambia, Mozambique, Malawi
Southern Africa: Namibia, Botswana, Zimbabwe, South Africa and Lesotho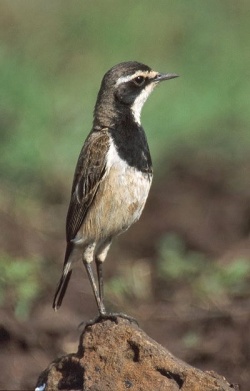 Taxonomy
Subspecies[1]
There are 3 subspecies:
Habitat
Stony plains, semi-desert, thornveld and short grassland.
Behaviour
Often seen perched on stones and fence posts.
Breeding
The nest is made from straw, grass, and leaves, in a hole in the ground or a termite mound. The clutch consists of 3-4 eggs.
Diet
The diet includes insects, especially ants.
Gallery
Click on photo for larger image
References
Clements, JF. 2009. The Clements Checklist of Birds of the World. 6th ed., with updates to December 2009. Ithaca: Cornell Univ. Press. ISBN 978-0801445019.
Avibase
Wikipedia
BF Member observations
Recommended Citation
External Links