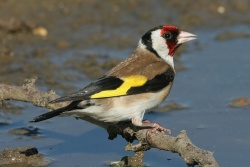 Genus: Carduelis
Description
A genus of small finches with a fondness for thistle seed, including goldfinches, siskins, redpolls, and linnets. Some species (the goldfinches) have large areas of yellow plumage and boldly marked wings.
Taxonomy
Carduelis is a genus in the family Fringillidae.
Recent research shows that crossbills (presently in Loxia) may warrant inclusion.
Mitochondrial DNA analysis of these species has shown that the common names given to the European and American forms do not reflect the relationships of these species. Instead the following groupings have been proposed:
the three North American goldfinches, the siskins, Twite, and the linnets
the redpolls
the European goldfinches
The new Clements edition and Gill and Donsker now place the Greenfinches in genus Chloris, the Redpolls in Acanthis and the Siskins and American Goldfinches in Spinus. Gill and Donsker also move the Linnets in Linaria.
References
Arnaz-Villena et al (1998), Phylogeny and rapid Northern and Southern Hemisphere speciation of goldfinches during the Miocene and Pliocene Epochs. Cellular and Molecular Life Sciences 54:9.
Pages in category 'Carduelis'
The following 3 pages are in this category, out of 3 total.