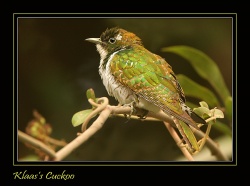 Genus: Chrysococcyx
Description
Twelve species of Cuckoo found in Africa, Asia and Australia.
All species are rather small cuckoos, have violet, greenish, blue or brown upperparts and mostly black barred whitish underparts.
They are brood parasites and feed mainly on insects.
Taxonomy
Chrysococcyx is a genus in the family Cuculidae.
The Asian and Australian species are sometimes placed in their own genus Chalcites.
References
Del Hoyo, J, A Elliot, and J Sargatal, eds. 1997. Handbook of the Birds of the World. Volume 4: Sandgrouse to Cuckoos. Barcelona: Lynx Edicions. ISBN 978-8487334221
Recommended Citation
Pages in category 'Chrysococcyx'
The following 13 pages are in this category, out of 13 total.