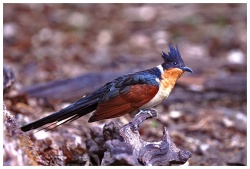 Genus: Clamator
Description
Four species of Cuckoo from Eurasia and Africa.
All four species are rather large and have long, narrow tails. They have a black, white and brown plumage and the two African species also have two distinct colour morphs.
All species are brood parasites, laying a single egg in the nest of their hosts.
Taxonomy
Clamator is a genus in the Family Cuculidae.
Jacobin Cuckoo and Levaillant's Cuckoo are sometimes placed in their own genus Oxylophus.
References
Del Hoyo, J, A Elliot, and J Sargatal, eds. 1997. Handbook of the Birds of the World. Volume 4: Sandgrouse to Cuckoos. Barcelona: Lynx Edicions. ISBN 978-8487334221
Recommended Citation
Pages in category 'Clamator'
The following 4 pages are in this category, out of 4 total.