Alternative names: Crowned Eagle, Crowned Solitary Eagle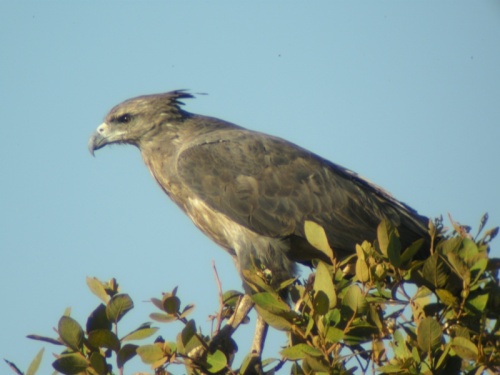 Buteogallus coronatus

Urubitinga coronata
Identification
73–85 cm (28¾-33½ in)
Dull slate grey
Darker wings
Prominent bushy crest
White band and white tip to dark tail
Yellow cere
Yellow legs

Juvenile
Brown upperparts
Cream below, cream head and throat
Dark post-ocular stripe
Upper breast mottled brown
Mottled lower belly
Distribution
South America: found in savanna of southern Brazil, Paraguay and Bolivia to northern Argentina.
Status
Classified as endangered in the IUCN Red List due to its small, fragmented population, and population decline due to habitat loss and hunting (BirdLife International, 2008).
Taxonomy
This is a monotypic species[1].
Formerly placed in the genus Harpyhaliaetus.
Habitat
Lowland, seasonally dry palm savanna, sparse woodland and shrubland; chaco; and campo cerrado.
Behaviour
Diet
The diet includes reptiles, small mammals, fish, monkeys and sometimes birds.
Breeding
It builds a large platform nest. A single egg is laid.
References
Clements, J. F., T. S. Schulenberg, M. J. Iliff, D. Roberson, T. A. Fredericks, B. L. Sullivan, and C. L. Wood. 2018. The eBird/Clements checklist of birds of the world: v2018. Downloaded from http://www.birds.cornell.edu/clementschecklist/download/
BirdLife International
SACC proposal] for taxonomy including this species
Wikipedia
Recommended Citation
External Links