This article is incomplete.
This article is missing one or more sections. You can help the BirdForum Opus by expanding it.
Overview
The Chatham Islands are a grouping of 11 islands, with a population of approximately 600 people according to their 2013 census[6], in the South Pacific Ocean approximately 800 km/ 497 miles east of New Zealand. There is no cell phone coverage here.


Their economy is centered on fishing, farming and tourism with most land either privately or Crown owned with habitat ranging from sandy beaches, to volcanic peaks, wetlands and waterways.


A unique claim they maintain is, due to their geographical location, they are the first to greet each new day. [4]
Birds
Notable Species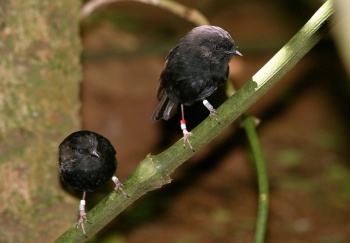 When it comes to birds, the Chatham Islands are recorded as having had 179 species reported as sighted, 1 breeding endemic species, 33 globally threatened and 6 now considered extinct. [3]
The Black Robin, is an endemic that, while suffering from a reduction in habitat and numbers, is the subject of efforts to try to reverse that trend. [7]
Some of the other endemic species you might see here include the New Zealand Scaup, Spotted Shag, Tui, Gray Gerygone, Chatham Island Gerygone, New Zealand Fantail, Tomtit, and Eurasian Skylark. [3]
Rarities
Some of the bird species reported as rare[3] here include the Australian Shoveler, Rock Pigeon, Long-tailed Koel, Pacific Swift, Spotless Crake, South Island Oystercatcher, Oriental Plover, Marsh Sandpiper, Long-tailed Jaeger, Antarctic Tern, King Penguin, Yellow-nosed Albatross, Wilson's Storm-Petrel, Fluttering Shearwater, Lesser Frigatebird, Australasian Gannet, Little Pied Cormorant, Cattle Egret, Royal Spoonbill, Sacred Kingfisher, Willie-wagtail, Rook, Tree Martin, Yellowhammer.
Check-list
Birds you can see here include:
Pacific Black Duck, California Quail, Shining Bronze-Cuckoo, Buff-banded Rail, Pied Stilt, Ruddy Turnstone, Parasitic Jaeger, Kelp Gull, Wandering Albatross, Black-bellied Storm-Petrel, South Georgia Diving-Petrel, Little Black Cormorant, White-faced Heron, Swamp Harrier, Morepork, Red-crowned Parakeet, Silvereye, Eurasian Blackbird, Dunnock, House Sparrow, Australasian Pipit, European Goldfinch.
Other Wildlife
To do
Site Information
History and Use
These islands have a long, storied, and interesting past.
They were first settled over 800 years ago by the Moriori people, an influence still present here today. After they came, the Europeans appeared with their influence. Followed by the Maori, who invaded in 1835, and still have a bearing on the island. All of these cultures and influences have combined to form what has been called a Chathams culture.[4]
Areas of Interest
Some of the locations of particular interest to a birder could include the Awatotara Bush Coastal Walking Track, Henga Scenic Reserve, Nikau Bush Conservation Area, and Pitt Island.
Access and Facilities
Chatham Islands / Tuuta Airport (CHT), is the airport on the islands, but mainstream commercial carrier access may have to be through an airport on mainland New Zealand.
Consult a trusted travel professional for specific, up-to-date information.
Contact Details
To do
References
Recommended Citation
External Links
Maps
[ https://goo.gl/maps/7emt1Z7dWuGXAqnZ7 Chatham Islands on Google Mapr}