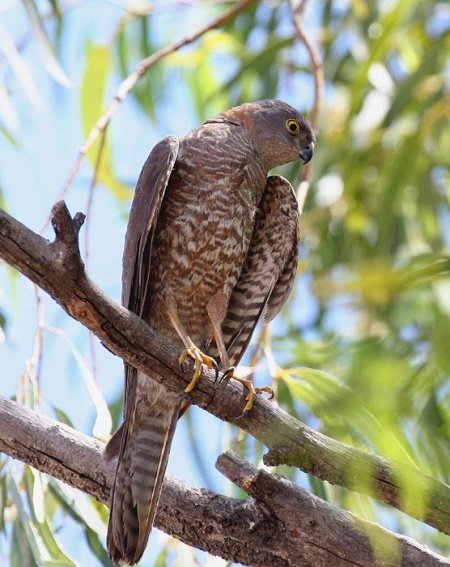 Accipiter cirrocephalus
Identification
Length 30-40cm (12-16in.) Wingspan 55-80cm (21.5-31.5in). Females larger
Grey upper body with chestnut half collar; gray chin, but rest of underbody from chest to tail is finely barred in rufous and white. Long, thin yellow legs. Very long middle toe.
Distribution
Widespread and common throughout Australia and New Guinea in appropriate habitat.
Taxonomy
The scientific name is also spelled cirrhocephalus. [2],[3]
Subspecies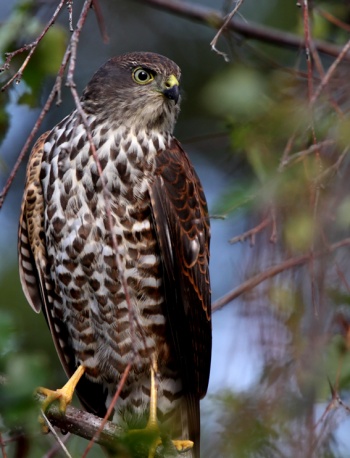 There are 3 subspecies[1]:
Rossell (Louisiade Archipelago)
Habitat
Forests and fields.
Behaviour
Diet
Expert and fast flyer that typically takes its prey (mostly small birds) in flight.
Breeding
Its flat nest is built from twigs and sticks, lined with fresh leaves. The female incubates, and broods the young.
References
Clements, JF. 2010. The Clements Checklist of Birds of the World. 6th ed., with updates to December 2010. Ithaca: Cornell Univ. Press. ISBN 978-0801445019. Spreadsheet available at http://www.birds.cornell.edu/clementschecklist/Clements%206.5.xls/view
Avibase
Birds in Backyards
Recommended Citation
External Links