Alternative name: Two-banded Courser
Rhinoptilus africanus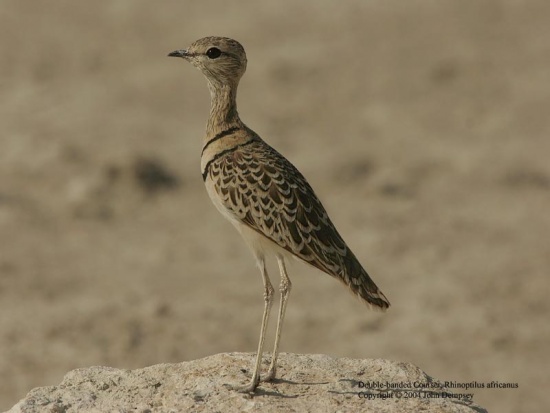 Identification
Distribution
Arid country of eastern and southern Africa.
Taxonomy
Smutsornis vs. Rhinoptilus
Some authorities (Clements, 2007) place Double-banded Courser in the monotypic genus Smutsornis. However Howard & Moore (2003) and Sibley & Monroe (1996) place it within the genus Rhinoptilus and the Opus awaits clarification.
Subspecies1
R. a. raffertyi - Eritrea to Ethiopia and Djibouti
R. a. hartingi - SE Ethiopia (Ogaden Depression) and Somalia
R. a. gracilis - Kenya and Tanzania
R. a. bisignatus - SW Angola
R. a. traylori - Namibia (Etosha region) to Botswana (Makgadikgadi area)
R. a. sharpei - Central Namibia
R. a. africanus - Central Kalahari and s Namibia to n Cape Province
R. a. granti - W Cape Province and Karoo of South Africa
Habitat
This is a bird of dry and alkaline flats as well as short grass plains normally up to 1800m.
Behaviour
Although it is active by day it may be nocturnal where temperatures are very high. It is generally seen in pairs. It nests on the ground among pebbles or animal droppings, laying a single egg.
References
Clements, James F. 2007. The Clements Checklist of Birds of the World. 6th ed., with updates to October 2008. Ithaca: Cornell University Press. ISBN 9780801445019
External Links