Alternative names: Orange-breasted Rockjumper; Buffy Rock-jumper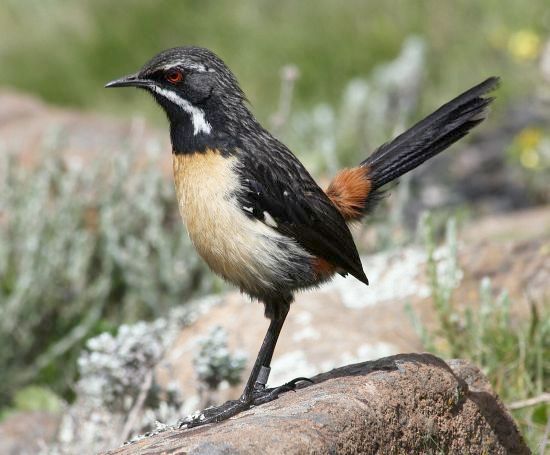 Chaetops aurantius
Identification
Length 21-22 cm.
Adult male: The crown and back are grey with black streaks and the wings are black with white markings. The rump is orange rufous and the fairly long tail is black with a white tip. The face is black, contrasting with conspicuous white eyebrows and malar stripes. The throat and upperbreast are black, and the lower breast and belly light orange-rufous.
Adult female: Similar to the male, but paler below with a buffy white throat.
Immature: Similar to the adult female, but with a shorter tail.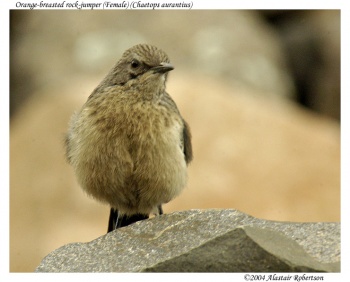 Distribution
Mountains (altitude >1000 m) of Lesotho and the Eastern Cape and KwaZulu-Natal provinces of South Africa.
Taxonomy
This is a monotypic species[1].
It has been considered conspecific with Cape Rockjumper.
This genus was traditionally placed with the Thrushes or the Babblers (Timaliidae), but is now considered to be more closely related to the rockfowl (genus Picathartes), and is placed in the monogeneric family Chaetopidae. Molecular evidence indicates that this family diverged from the main Passerine tree about 45 million years ago, before the divergence of the Passerida (into the superfamilies Muscicapoidea, Sylvioidea and Passeroidea).
Habitat
Steep rocky slopes with grass and bushes; scree.
Behaviour
Movement
Runs fast, but stops frequently, often cocking its tail.
Diet
Forages for invertebrates on the ground or from perches on rocks.
Breeding
The nest is a bowl of grass and sticks on the ground and well hidden under vegetation against a rock. One to three eggs are laid October to December.
Vocalisation
Call: a loud wheeoo.
References
Clements, JF. 2011. The Clements Checklist of Birds of the World. 6th ed., with updates to August 2011. Ithaca: Cornell Univ. Press. ISBN 978-0801445019. Spreadsheet available at http://www.birds.cornell.edu/clementschecklist/downloadable-clements-checklist
Hockey, PAR, WRJ Dean, and PG Ryan, eds. 2005. Roberts' Birds of Southern Africa. 7th ed. Cape Town: John Voelcker Bird Book Fund. ISBN 978-0620340533
Recommended Citation
External Links