(Picture of subspecies)

 

(5 intermediate revisions by 5 users not shown)
Line 1:
Line 1:
 
+
 

;[[:Category:Mirafra|Mirafra]] rufocinnamomea

 

;[[:Category:Mirafra|Mirafra]] rufocinnamomea

 
 
Line 4:
Line 5:
 

Length 14-15 cm, mass 21-32 g.

 

Length 14-15 cm, mass 21-32 g.

 
 
−

A dark Lark with rufous-edged wings; similar to the [[Rufous-naped Lark]], but smaller and darker. It is best identified by its display flight which includes two to five bursts of wing-clapping (''prrrrt prrrt-rrrt''), sometimes followed by a thin, barely audible whistle.

+

to the [[Rufous-naped Lark]], but smaller and darker . is , , .  

 
+
 
+
 

==Distribution==

 

==Distribution==

−

Sub-Saharan [[Africa]].

+
 
+

Sub-Saharan [[Africa

 
+
 
+
 
+

]].

 

==Taxonomy==

 

==Taxonomy==

−

Considerable geographic variation; 15 subspecies have been described.

+
 
+

Considerable geographic variation; 15 subspecies have been described

 
+

.

 
+
 
+
 
+
 
+
 
+
 
+
 
+
 
+
 
+
 
+
 
+
 
+
 
+
 
+
 
+

 

 

==Habitat==

 

==Habitat==

 

Grasslands and grassy openings in woodlands and savanna.

 

Grasslands and grassy openings in woodlands and savanna.

 

==Behaviour==

 

==Behaviour==

−

Usually solitary or in pairs. Forages on the ground for invertebrates and seeds.

+

Usually solitary or in pairs.

−

 

+
−

'''Breeding''': Monogamous and territorial. The nest is a domed or partly domed structure built of grass on the ground. Two to three eggs are laid (October to April in southern Africa).

+

Forages on the ground for invertebrates and seeds.

 
+
 
+

Monogamous and territorial. The nest is a domed or partly domed structure built of grass on the ground. Two to three eggs are laid (October to April in southern Africa)

 
+
 
+

.

 

==References==

 

==References==

−

Hockey PAR, Dean WRJ & Ryan PG (eds) 2005. ''Robert's Birds of Southern Africa'', 7th edition. John Voelcker Bird Book Fund, Cape Town, South Africa. ISBN 0620340533

+

...

 
+
 

==External Links==

 

==External Links==

 

{{GSearch|Mirafra+rufocinnamomea}}

 

{{GSearch|Mirafra+rufocinnamomea}}

−

[[Category:Birds]] [[Category:Mirafra]] [[Category:Missing Images]]

+

[[Category:Birds]] [[Category:Mirafra]]
---
Latest revision as of 22:52, 9 February 2018
Mirafra rufocinnamomea
Identification
Length 14-15 cm, mass 21-32 g.
Similar to the Rufous-naped Lark, but smaller and darker with rufous-edged wings. Tail is distinctive and a key identification feature, being narrow, often appearing untidy, and having dark brown central rectrices and rufous outer ones.
Variation
Some subspecies are very dark above
Distribution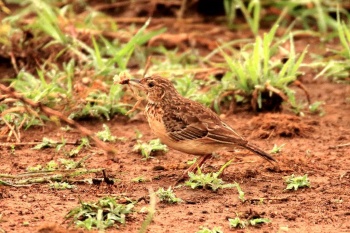 Sub-Saharan Africa:
Western Africa: Mauritania, Senegal, The Gambia, Guinea-Bissau, Mali, Liberia, Ivory Coast, Burkina Faso, Ghana, Togo, Benin, Nigeria, Niger, Chad, Cameroon, Central African Republic, Equatorial Guinea, Gabon, Democratic Republic of Congo, Angola and Zaire
Eastern Africa: Sudan, South Sudan, Ethiopia, Somalia, Kenya, Uganda, Rwanda, Burundi, Tanzania, Zambia, Mozambique and Malawi
Southern Africa: Namibia, Botswana, Zimbabwe, South Africa, KwaZulu-Natal and Swaziland.
Taxonomy
Subspecies
Considerable geographic variation; 15 subspecies have been described[1]:
Habitat
Grasslands and grassy openings in woodlands and savanna.
Behaviour
Usually solitary or in pairs.
Diet
Forages on the ground for invertebrates and seeds.
Breeding
Monogamous and territorial. The nest is a domed or partly domed structure built of grass on the ground. Two to three eggs are laid (October to April in southern Africa).
Action
Display flight is distinctive if witnessed - two to five bursts of wing-clapping (prrrrt prrrt-rrrt), sometimes followed by a thin, barely audible whistle, delivered as the bird circles in an undulating flight.
References
Clements, J. F., T. S. Schulenberg, M. J. Iliff, D. Roberson, T. A. Fredericks, B. L. Sullivan, and C. L. Wood. 2017. The eBird/Clements checklist of birds of the world: v2017, with updates to August 2017. Downloaded from http://www.birds.cornell.edu/clementschecklist/download/
Hockey, PAR, WRJ Dean, and PG Ryan, eds. 2005. Roberts' Birds of Southern Africa. 7th ed. Cape Town: John Voelcker Bird Book Fund. ISBN 978-0620340533
Birdforum thread showing one of the dark forms of Flappet Lark
Recommended Citation
External Links