Line 1:
Line 1:
 

;[[:Category:Mirafra|Mirafra]] rufocinnamomea

 

;[[:Category:Mirafra|Mirafra]] rufocinnamomea

−

 

+
 

==Identification==

 

==Identification==

 

Length 14-15 cm, mass 21-32 g.

 

Length 14-15 cm, mass 21-32 g.

Line 19:
Line 19:
 

==External Links==

 

==External Links==

 

{{GSearch|Mirafra+rufocinnamomea}}

 

{{GSearch|Mirafra+rufocinnamomea}}

−

[[Category:Birds]] [[Category:Mirafra]] [[Category:Missing Images]]

+

[[Category:Birds]] [[Category:Mirafra]]
---
Revision as of 21:09, 21 November 2008
Mirafra rufocinnamomea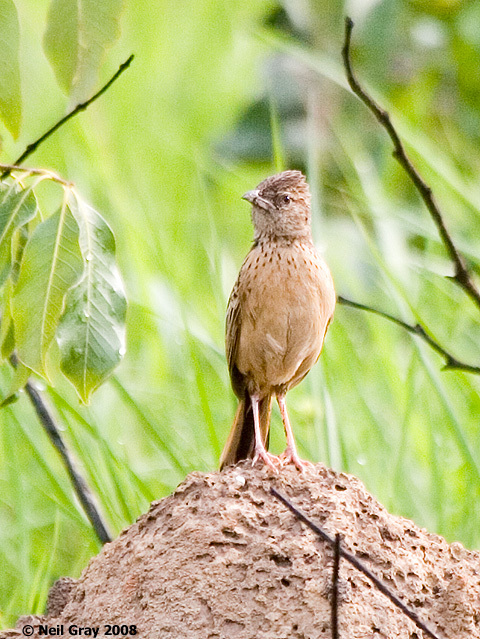 Identification
Length 14-15 cm, mass 21-32 g.
A dark Lark with rufous-edged wings; similar to the Rufous-naped Lark, but smaller and darker. It is best identified by its display flight which includes two to five bursts of wing-clapping (prrrrt prrrt-rrrt), sometimes followed by a thin, barely audible whistle.
Distribution
Sub-Saharan Africa.
Taxonomy
Considerable geographic variation; 15 subspecies have been described.
Habitat
Grasslands and grassy openings in woodlands and savanna.
Behaviour
Usually solitary or in pairs. Forages on the ground for invertebrates and seeds.
Breeding: Monogamous and territorial. The nest is a domed or partly domed structure built of grass on the ground. Two to three eggs are laid (October to April in southern Africa).
References
Hockey PAR, Dean WRJ & Ryan PG (eds) 2005. Robert's Birds of Southern Africa, 7th edition. John Voelcker Bird Book Fund, Cape Town, South Africa. ISBN 0620340533
External Links