(Add Location Image, Remove Catetgory:Missing Location Images)

Line 1:
Line 1:
 
+
 

'''[[Australia]]''', '''[[Queensland]]'''

 

'''[[Australia]]''', '''[[Queensland]]'''

 

==Overview==

 

==Overview==

Line 76:
Line 77:
 
 
 
 
−

[[Category:Locations]] [[Category:Australia]] [[Category:Queensland]] [[Category:Missing Location Images]]

+

[[Category:Locations]] [[Category:Australia]] [[Category:Queensland]]
---
Revision as of 12:44, 3 December 2020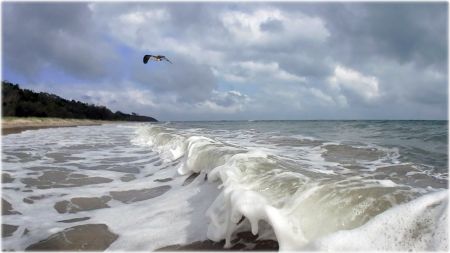 Overview
Fraser Coast describes not one specific point of land on a map, but an area. It is an area that is many things. It is numerous beaches and coastal towns you might come across as you travel down the sandy mainland from the Hervey Bay area before you come to places like Turkey Island and the numerous smaller islands that make up the Great Sandy Strait which separates the mainland from Fraser Island.
It is an area long the home of the traditional owners, the Butchulla people, with a habitat on Fraser Island so varied and unique part of it has been listed as a World Heritage spot. This habitat is where might be found marine species such as migrating whales as they prepare their newly born young for their return trip, numerous species of birds, and other wildlife.
It is an area with state and national parks that add to the already burgeoning amount of nature that can be found and enjoyed. [1][2]
Birds
Notable Species
To lead off a discussion of notable bird species in Queensland, Australia, where the Fraser Coast is found, a logical place to start could easily be the Brolga, which is the official bird of Queensland having been proclaimed as such in January of 1986 after being featured on the official coat of arms since 1977. Sometimes called the Native Companions, they are a species endemic to Australia.[4]
Approximately 399 species of birds have been reported as having been sighted here with over 100 of them recorded as being endemic to the country or region and 9 of them being globally threatened. [1]
Rarities
Some of the species that have been considered as rare, or accidental, for this area include[1] the Pectoral Sandpiper, Pacific Gull, Kelp Gull, Black-throated Finch, and the White Wagtail.
Check-list
Birds you can see here include:
Emu, Magpie Goose, Radjah Shelduck, Australian Brushturkey, Australian Brushturkey, Blue-breasted Quail, Hoary-headed Grebe, Pacific Emerald Dove, Australian Bustard, Pallid Cuckoo, Marbled Frogmouth, Australian Crake, Brolga, Red-necked Avocet, Sooty Oystercatcher, Red-kneed Dotterel, Comb-crested Jacana, Wood Sandpiper, Little Buttonquail, White-winged Tern, Wandering Albatross, Slender-billed Prion, Great Frigatebird, Red-footed Booby, Little Black Cormorant, Pacific Reef Heron, Australian Ibis, Swamp Harrier, Australian Masked-Owl, Powerful Owl, Laughing Kookaburra, Gray Falcon, Cockatiel, Eastern Rosella, Regent Bowerbird, Brown Treecreeper, Superb Fairywren, Mangrove Honeyeater, Striated Pardalote, Striated Thornbill, Australian Logrunner, Varied Triller, Olive Whistler, Dusky Woodswallow, Rufous Fantail, Satin Flycatcher, Apostlebird, Red-capped Robin, Double-barred Finch, Australasian Pipit
Other Wildlife
Fraser Coast is an area with a considerable variety of wildlife that might be seen and experienced. Birds of a large number of species are here, of course, but to stop with just birds would be remiss.
This area is widely known for it's connection to marine life, especially whales. Humpback Whales have made the areas around Hervey Bay a part of their annual migration and mating routine. After giving birth, they frequently come to the area to prepare themselves and their calves for their return to their home in Antarctica. But Humpbacks are not the only whale species that may be found here, with as many as 6 other whale species having been noted in the area. Add into that, among other species, dolphins and an occasional fur seal.
The area's importance to whales and other such marine species has led the WCA (World Cetacean Alliance) to designate it as a Whale Heritage Site along with The Bluff in South Africa. At present these are the only two sites worldwide so designated.[1]
Couple the bird and marine life of this area with other wildlife found here such as Dingoes and Swamp wallabies[5] and a clear basis for considering this a location with wide-ranging wildlife begins to emerge.
Site Information
History and Use
Many locations in Australia were inhabited by indigenous peoples before settlers entered the picture. Fraser Island is no different. The indigenous people of Fraser are the Butchulla. That much is known, but a complete, documented history of their history is incomplete and open to discussion. Much of it disappeared by either accidental or overt means with the advent of European settlement. But their life, customs, and history are a matter of respect by certain residents of the locale.[5]
Areas of Interest
Interesting places within this area are plentiful and varied. A few of them an inquiring visitor might want to avail themselves of could include:
Fraser Island
A World Heritage listed site noted as the largest sand island in the world, Fraser Island stretches over 123 km/76 miles long and as much as 22 km/13 miles wide with dunes averaging from 100 metres/328 feet to 244 metres/800 feet above sea level. It's a place with a wide choice of habitat, beaches, birds, and other wildlife to attract a visitor. .[5]
Great Sandy National Park
Great Sandy is a large national park on Fraser Island offering a wide range of habitat and amenities to help foster a meaningful visit by birders and other visitors.
Great Sandy Strait
A narrower section of waterway separating mainland Queensland and Fraser Island that is, in turn, populated with a number of smaller islands. Consultation with an on-site entity familiar with this area may well be the best avenue for determination of birding potential and exploration of these islands.
Hervey Bay
Hervey Bay is the area designated by the WCA as a Whale Heritage Site with some of it extending to the area around Fraser Island.
Numerous smaller natural areas and protected areas scattered throughout the area.
Access and Facilities
Hervey Bay Regional Airport (HVB) is the closest airport to Fraser Island that offers regular scheduled air service.
Consult a trusted travel professional for specific, up-to-date information travel information for this area.
References
Recommended Citation
Maps