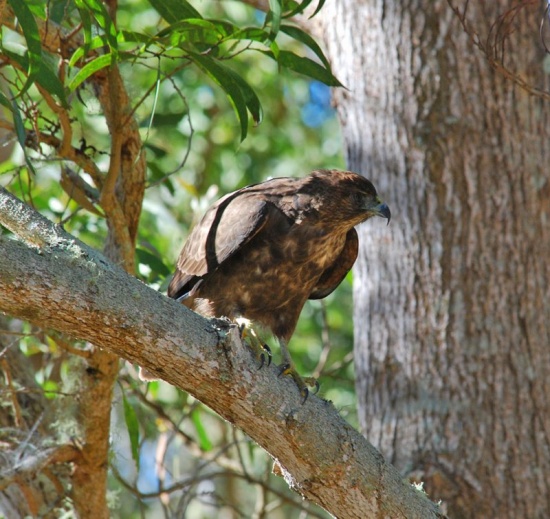 Alternative name: 'Io
Buteo solitarius
Identification
37–46 cm (14½-18 in); the female is larger than the male
Two colour morphs:

Dark phase

Dark brown head, breast, and underwings

Light phase

Dark head, light breast and light underwings

Feet and legs are yellow in adults and green in juveniles
Distribution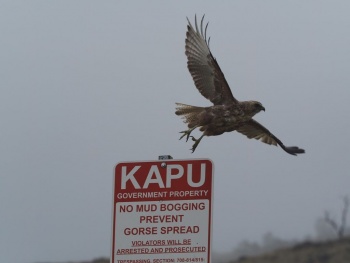 Hawaii. Restricted to the island of Hawai'i, where it is widely distributed at all elevations, in both natural and disturbed habitats.
It is possible that some of them may occasionally stray to Maui County, but they have never been recorded regularly there.
Taxonomy
This is a monotypic species[1].
Habitat
Present in all habitats on Hawaii Island, from coastline to treeline.
Behaviour
Breeding
The breeding season runs from March to August. The clutch usually consists of a single egg which is incubated by the female for 38 days. After the egg is hatched, the male is only allowed near the nest to bring. The chick fledges at seven or eight weeks.
Diet
Diet includes small mammals, rodents, insects, small birds. They do catch introduced rodent species too.
References
Clements, J. F., T. S. Schulenberg, M. J. Iliff, D. Roberson, T. A. Fredericks, B. L. Sullivan, and C. L. Wood. 2017. The eBird/Clements checklist of birds of the world: v2017, with updates to August 2017. Downloaded from http://www.birds.cornell.edu/clementschecklist/download/
Handbook of the Birds of the World Alive (retrieved August 2014)
BF Member observations
Wikipedia
Recommended Citation
External Links