Alternative name: Yellow-rumped Eremomela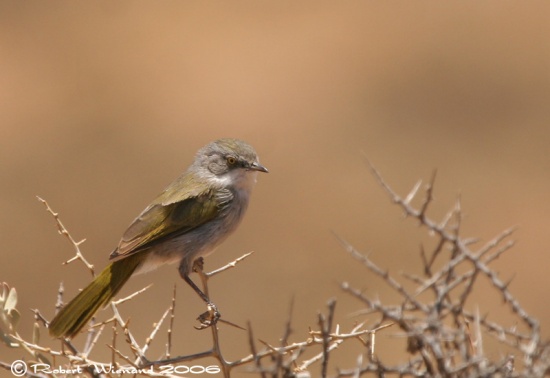 Eremomela gregalis
Identification
Length 12 cm, mass 7-9 g.
Adult: Upper parts greyish green with yellow-green rump, wings mostly brown. Under parts whitish, vent yellow. The eyes are bright yellow and the bill is black.
Distribution
Western Namibia and western South Africa.
Taxonomy
Eremomela gregalis has two subspecies:1
Habitat
Karoo and semi-desert scrub, especially along dry river courses.
Behaviour
Usually in groups of up to 10 birds. They are difficult to see as they keep low as they move from bush to bush. They eat small invertebrates, mostly gleaned from branches and leaves of bushes.
Breeding
Probably monogamous, but breed cooperatively. The nest is a cup of twigs, bark, lichen, grass and plant down; usually placed in a bush less than 40 cm above the ground. Two to four eggs are laid, usually August to October.
References
Clements, JF. 2008. The Clements Checklist of Birds of the World. 6th ed., with updates to December 2008. Ithaca: Cornell Univ. Press. ISBN 978-0801445019. Spreadsheet available at http://www.birds.cornell.edu/clementschecklist.
Hockey, PAR, WRJ Dean, and PG Ryan, eds. 2005. Roberts' Birds of Southern Africa. 7th ed. Cape Town: John Voelcker Bird Book Fund. ISBN 978-0620340533
Recommended Citation
External Links