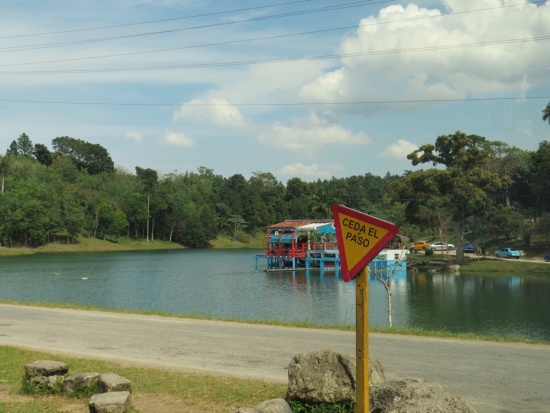 Overview
50 kilometres west of Havanna lies the nature reserve of Las Terrazas. It consists of mainly secondary forest which was planted by building terraces to avoid erosion, hence the name.
A number of Cuban endemics can be found here, most notably Cuban Grassquit. The near endemic Olive-capped Warbler is also found.
Birds
Notable Species
At the forest edge and around plantations Cuban Grassquit can be found among the more numerous Black-faced Grassquit. Olive-capped Warbler is found in pines. Other Cuban endemics like Cuban Tody, Cuban Pygmy Owl or Cuban Trogon are easy to find.
Check-list
Birds you can see here include:
Turkey Vulture, Gundlach's Hawk, Northern Harrier, Snail Kite, Broad-winged Hawk, Red-tailed Hawk, Common Gallinule, White-crowned Pigeon, Mourning Dove, Zenaida Dove, White-winged Dove, Smooth-billed Ani, Great Lizard Cuckoo, Cuban Pygmy Owl, Antillean Palm Swift, Cuban Emerald, Cuban Trogon, Cuban Tody, West Indian Woodpecker, Cuban Green Woodpecker, Northern Crested Caracara, American Kestrel, Cuban Pewee, Loggerhead Kingbird, La Sagra's Flycatcher, Cuban Vireo, Red-eyed Vireo, White-eyed Vireo, Black-whiskered Vireo, Blue-grey Gnatcatcher, Northern Mockingbird, Red-legged Thrush, House Sparrow, Ovenbird, Northern Waterthrush, Black-and-white Warbler, Common Yellowthroat, American Redstart, Cape May Warbler, Northern Parula, Magnolia Warbler, Black-throated Blue Warbler, Palm Warbler, Myrtle Warbler, Yellow-throated Warbler, Prairie Warbler, Black-throated Green Warbler, Olive-capped Warbler, Cuban Oriole, Tawny-shouldered Blackbird, Cuban Blackbird, Greater Antillean Grackle, Cuban Bullfinch, Yellow-faced Grassquit, Cuban Grassquit, Western Spindalis, Summer Tanager, Red-legged Honeycreeper
Site Information
History and Use
Several copper mines and the demand for wood in nearby Havanna led to a complete deforestation of the hills around the village of Las Terrazas. However the area was reforested in the 20th century, mainly using native trees and plants. Tourism is important for the region.
Areas of Interest
Hotel Moka
Some easy accessible forest is around the Hotel Moka. Watch out for Vireos and Cuban Trogon.
Pine plantations along the main road
Pine trees are the favoured habitat of Olive-capped Warbler, a species only locally found in Cuba and on the Bahamas.
Access and Facilities
Las Terrazas can be reached in about two hours from Havanna. There are several restaurants in the nature reserve and some hotels. There are also local guides available.
External Links