Alternative name: Small Coucal
Centropus bengalensis
Identification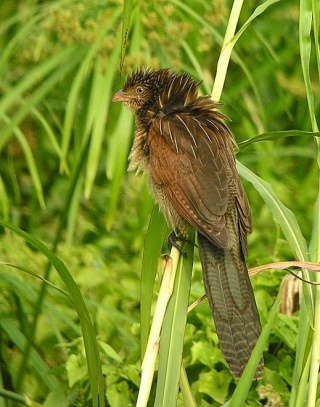 31 - 38cm.
Black upperparts and underparts, often with pale streaking
Pale rufous brown wings
Glossy black tail narrowly tipped whitish
Red to brown eye
Black bill and legs
In non-breeding plumage barred brown upperparts and rufous-white underparts with dusky bars
Subspecies differ mainly in size, sarasinorum is larger and darker than nominate, medius larger still
Sexes alike, females larger. Juveniles are dark brown above, light rufous barred, streaked rufous on head and back, have buffy-white shaft-streaks and are whitish buff below with paler shaft streaks and bars.
Distribution
From India est to southern China, Indochina, Malaysia, Sumatra, Borneo, the Philippines, the Lesser Sundas and Moluccas.
Common in suitable habitat in its range.
Taxonomy
Five subspecies recognized:
Has been considered conspecific with Black Coucal and Madagascar Coucal.
Habitat
Open grasslands, both dry and marshy. In more open habitats than Greater Coucal.
From lowlands up to 1800m.
Behaviour
Diet
Feeds on large insects, frogs, lizards, snakes, fruit. They hunt these among the undergrowth, using their powerful bills to catch and kill their prey.
Breeding
Breeding season starts in India after onset of rains In June, December to July in the Malay Peninsula. They build a large globe nest made of twigs or grass (blades and stems) with a large entrance hole to one side. The nest is sometimes lined with green leaves and grass. 2-4 white eggs are laid. Both sexes incubate and tend the young.
Movements
This is a resident species. Locally perhaps only a summer visitor, e.g. in Nepal.
References
Clements, J. F., T. S. Schulenberg, M. J. Iliff, B.L. Sullivan, C. L. Wood, and D. Roberson. 2013. The eBird/Clements checklist of birds of the world: Version 6.8., with updates to August 2013. Downloaded from http://www.birds.cornell.edu/clementschecklist/download/
Del Hoyo, J, A Elliot, and J Sargatal, eds. 1997. Handbook of the Birds of the World. Volume 4: Sandgrouse to Cuckoos. Barcelona: Lynx Edicions. ISBN 978-8487334221
Recommended Citation
External Links