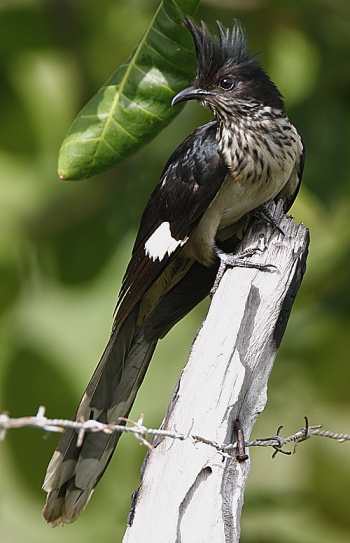 Alternative names: Striped Cuckoo; African Striped Cuckoo; Striped Crested Cuckoo
Clamator levaillantii
Oxylophus levaillantii
Identification
39cm.
Black above, faintly glossed bluish or greenish
Black crest
White patch on black wings
Dull white below, streaked on throat and breast, less obvious streaking on flanks and thighs
Melanistic morph known to occur rarely in coastal eastern Africa, all black with white wing patch and white tips on tail
Juveniles are brown to rufous on upperparts, have dark brown wings with a white patch, a grey-brown tail and are whitish to buffy on underparts with dull brown chin to breast.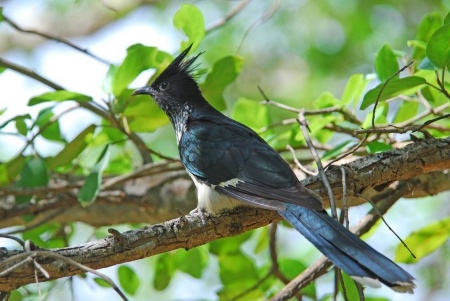 Similar species
Jacobin Cuckoo is smaller and unstreaked on underparts. Black Cuckoo differs from melanistic morph in having no white in wing and is also smaller.
Distribution
Africa south of the Sahara.
Not uncommon in its range. A common species in Gambia and in Mali during the rains, widespread and not uncommon in Sierra Leone. Locally common in southern parts of its range.
Taxonomy
This is a monotypic species which is sometimes placed in genus Oxylophus.
Habitat
Savanna and woodland, thickets, gardnes, old farms, scrub and riverine forest.
Often in humid places, in eastern Africa mainly in areas with more than 500mm of rainfall. Occurs up to 2100m.
Behaviour
An intra-African migrant.
Vocalization
The call is a low ringing kuwu-weer, kuwu-weer... and an excited ku-wi-wi-wi.
Breeding
It is a brood parasite, using the nests of bulbuls and babblers. The main host in southern Africa is the Arrow-marked Babbler.
Diet
Feeds on insects but takes also berries. Forages similar to Jacobin Cuckoo, mainly in trees and bushes but also on the ground.
References
Clements, J. F., T. S. Schulenberg, M. J. Iliff, B.L. Sullivan, C. L. Wood, and D. Roberson. 2012. The eBird/Clements Checklist of Birds of the World. 6th ed., with updates to October 2012. Ithaca: Cornell Univ. Press. ISBN 978-0801445019. Spreadsheet available at http://www.birds.cornell.edu/clementschecklist/downloadable-clements-checklist
Del Hoyo, J, A Elliot, and J Sargatal, eds. 1997. Handbook of the Birds of the World. Volume 4: Sandgrouse to Cuckoos. Barcelona: Lynx Edicions. ISBN 978-8487334221
Recommended Citation
External Links