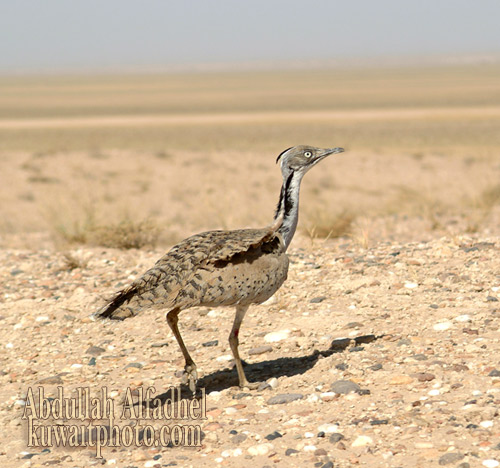 Chlamydotis macqueenii
Identification
60 cm

Brown above
White below
Black stripe down the sides of neck

Sexes are similar, but the female is smaller and greyer above.
Distribution
Nile Valley of Egypt to Arabian Peninsula and Pakistan.
Vagrancy
MacQueen's Bustard has a greater tendency to wander than it's fellow Chlamydotis species, the sedentary Houbara Bustard. Records stretch as far as Great Britain, mainly in the 19th century, though only recorded as Chlamydotis bustards (pre-split, see Taxonomy).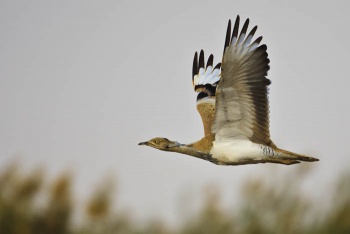 Population
It has been hunted to near-extinction in the Middle East by Arab falconers. Conservation efforts by the late Shaikh Zayed bin Sultan Al Nahyan in the United Arab Emirates have given some hope for the future of this bustard.
Taxonomy
A monotypic species.[1]
Formerly lumped within Houbara Bustard, C. undulata.
Habitat
Deserts and very arid sandy areas.
Behaviour
Breeding
The 2-4 eggs are laid on the ground.
Diet
Diet includes seeds, insects and other small creatures.
References
Clements, JF. 2008. The Clements Checklist of Birds of the World. 6th ed., with updates to December 2008. Ithaca: Cornell Univ. Press. ISBN 978-0801445019.
Wikipedia
Recommended Citation
External Links