(taxon, ref, remove {{incomplete}})

Line 1:
Line 1:
−

{{incomplete}}

 
 

[[Image:Manx_Shearwater.jpg|thumb|550px|right|Photo by {{user|Glen+Tepke|Glen Tepke}} <br/> Photo taken in Gulf of Maine southeast of Bar Harbor, Maine, USA, 7/26/04.]]

 

[[Image:Manx_Shearwater.jpg|thumb|550px|right|Photo by {{user|Glen+Tepke|Glen Tepke}} <br/> Photo taken in Gulf of Maine southeast of Bar Harbor, Maine, USA, 7/26/04.]]

 

;[[:Category:Puffinus|Puffinus]] puffinus

 

;[[:Category:Puffinus|Puffinus]] puffinus

Line 15:
Line 14:
 
 
 

==Taxonomy==

 

==Taxonomy==

 
+
 
+
 
+
 

==Habitat==

 

==Habitat==

 

Strictly pelagic when not breeding, usually off-shore rather than oceanic

 

Strictly pelagic when not breeding, usually off-shore rather than oceanic

Line 26:
Line 28:
 

''[[Media:Puffinus puffinus (song).mp3|Listen in an external program]]''

 

''[[Media:Puffinus puffinus (song).mp3|Listen in an external program]]''

 

==References==

 

==References==

−

Collins Field Guide 5th Edition

+

Collins Field Guide 5th Edition

 

==External Links==

 

==External Links==

 

{{GSearch|Puffinus_puffinus}}

 

{{GSearch|Puffinus_puffinus}}
---
Revision as of 20:44, 5 October 2014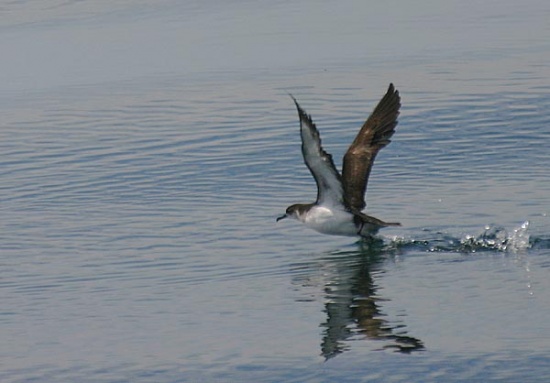 Puffinus puffinus
Identification
34 cm. Blackish or dark brown upper parts, white below, white wing linings, white crescent behind eye, short tail.
Similar Species
Audubon's Shearwater is slightly smaller with shorter less-pointed wings, dark undertail coverts, and white spot near eyes.
Cory's Shearwater is much larger with much lighter brown body and wings, heavy yellow bill and white tail band.
Great Shearwater is much larger with lighter body, smudgy brown belly, neat cap, narrow pointed wings. and white tail band.
Distribution
Manx Shearwater is known to nest commonly in the eastern North Atlantic, but in 2009, the first confirmed young fledged within the USA, in Maine.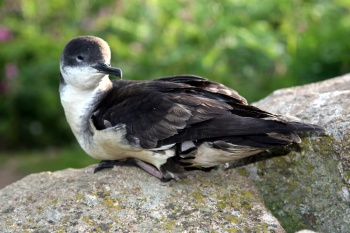 Outside breeding season disperses to southern Atlantic. Since the 1970ties have been seen as a rare but increasingly regular bird in eastern north Pacific.
Taxonomy
Up to seven other species has in the past been treated as subspecies of Manx Shearwater.
Habitat
Strictly pelagic when not breeding, usually off-shore rather than oceanic
Behaviour
Flight
Glides and banks low over the water on stiff straight wings, with very irregular wingbeats
Breeding
Nests colonially in burrows on grassy slopes of islands, often at some distance from the sea. Visits burrows after dark
Vocalisation
<flashmp3>Puffinus puffinus (song).mp3</flashmp3>
Listen in an external program
References
Clements, J. F., T. S. Schulenberg, M. J. Iliff, D. Roberson, T. A. Fredericks, B. L. Sullivan, and C. L. Wood. 2014. The eBird/Clements checklist of birds of the world: Version 6.9., with updates to August 2014. Downloaded from http://www.birds.cornell.edu/clementschecklist/download/
Collins Field Guide 5th Edition
External Links