Alternative names: Latakoo Lark, Melodious Bushlark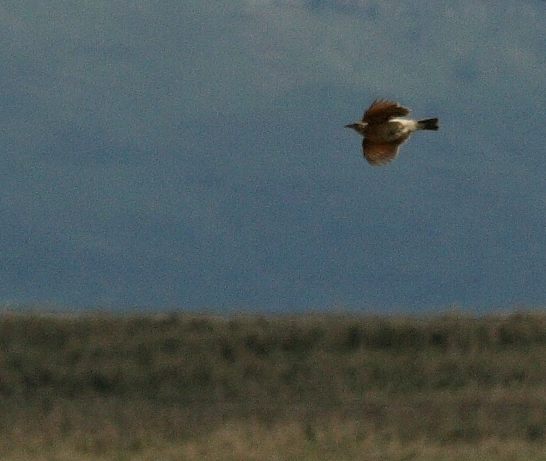 Mirafra cheniana
Identification
Length 12 cm, mass 20 g. Adult: A small lark with distinct whitish eyebrows that contrast with the brown crown and ear coverts. Mantle to rump pale brown with darker streaks. Tail dark brown, outer edges white. Wings dark brown, pale brown and rufous. Chin and throat white; remainder of underparts buff, with dark brown speckles on the breast. The pale brown bill is short and stout and the eyes are brown. The legs and feet are pinkish to flesh. Juvenile: Similar to the adults, but darker and more mottled above.
The song of the male in breeding season (see below) is usually the key to detection and identification.
Similar Species
The Monotonous Lark and Pink-billed Lark are similar, but songs and displays differ. The Monotonous Lark has whiter belly and flanks, less distinct eyebrow, heavier bill, and more white on the outer tail. The Pink-billed Lark has a shorter, pinker bill, shorter tail and darker belly.
Distribution
Grasslands of east-central South Africa. There is a small, isolated population in central Zimbabwe.
Taxonomy
The species is monotypic.
Habitat
Short grassland at altitudes of 550-1750 m.
Status
Listed as Near-threatened in the 2007 IUCN Red List due to loss of habitat to cultivation and degradation from over-grazing (Birdlife International, 2007).
Behaviour
Sings in protracted aerial display, usually high above the ground, or less often from a perch. Inconspicuous unless singing.
Diet
Forages alone or in pairs on the ground for invertebrates and seeds.
Vocalisation
The song (of the male in breeding season) is long and rambling, incorporating a wide variety of chatters, trills, whistles and mimiced calls.
References
BirdLife International (2007) Species factsheet: Mirafra cheniana. Downloaded from http://www.birdlife.org on 2/1/2008.
Hockey PAR, Dean WRJ & Ryan PG (eds) 2005. Robert's Birds of Southern Africa, 7th edition. John Voelcker Bird Book Fund, Cape Town, South Africa. ISBN 0620340533
External Links