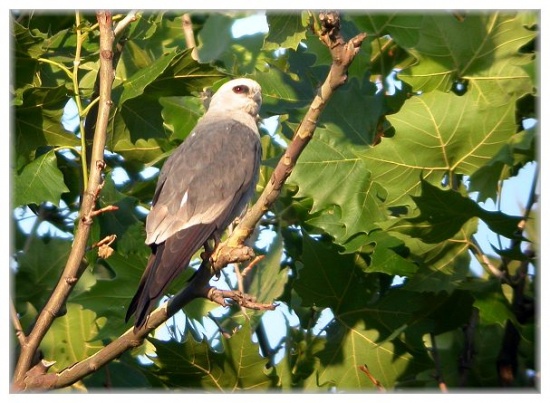 Ictinia mississippiensis
Identification
31–38 cm (12¼-15 in)
Adult
Grey overall plumage
Paler head, neck and underparts
Slate-grey primaries
Distribution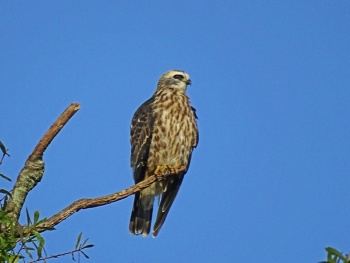 North, Central and South America.
A summer visitor to the eastern USA from Kansas, Oklahoma and Texas east to Georgia and northern Florida. Most common in the Great Plains but range is expanding and now occurs north on the Atlantic coast to the Carolinas, in the Mississippi Valley to Illinois and west to Colorado, New Mexico and Arizona.
Passage birds occur through eastern and southern Mexico and Central America. They winter in Paraguay and northern Argentina.
Taxonomy
This is a monotypic species[1].
Habitat
Open country with scattered groups of tall trees.
Behaviour
Diet
Their main diet consists almos entirely of insects, such as cicadas, grasshoppers, beetles and dragonflies. They also eat some amphibians.
Movement
Pre-migratory flocks form by early Aug on breeding grounds.
Gallery
Click on photo for larger image
References
Clements, J. F., T. S. Schulenberg, M. J. Iliff, D. Roberson, T. A. Fredericks, B. L. Sullivan, and C. L. Wood. 2018. The eBird/Clements checklist of birds of the world: v2018. Downloaded from http://www.birds.cornell.edu/clementschecklist/download/
White, C.M. & Marks, J.S. (2019). Mississippi Kite (Ictinia mississippiensis). In: del Hoyo, J., Elliott, A., Sargatal, J., Christie, D.A. & de Juana, E. (eds.). Handbook of the Birds of the World Alive. Lynx Edicions, Barcelona. (retrieved from https://www.hbw.com/node/52975 on 29 July 2019).
Recommended Citation
External Links